21 Pinoy Peacekeepers captured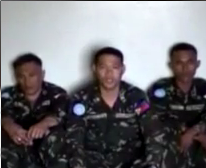 Philippines
March 8, 2013 8:55am CST
Hello Lotters, It's hard to believe this has happened in Syria. seriously, how could the Rebels think of abducting for ransom some peacekeepers when they are merely assisting because of the conflict there. these are Filipino Contigents being interviewed.

they were taken

from GOlan heights. Now, my impression i thought they were captured by the rebels and the UN is demanding their release. but it would seemed like they were taken to safety because of the GOvt. continued artillary strike. I don't know the truth, what do you think???? not a referral link. http://www.youtube.com/watch?v=4-H-RI5HXSk
3 responses

• Philippines
10 Mar 13
They had been released unharmed


, they have nothing to do with the civil war going on in Syria but are peace keepers in the Golan heights between Syria and Israel, another thing is they were unarmed when captured.

• Philippines
20 Mar 13
Hello louievill, from my perspective since we are no longer that strong of navy there fore we shouldn't participate in this conflicts. besides, these forces will be needed in the Philippines, not only we got internal conflicts we got problems with SAbah and then the disputed islands. which is something hard




• Philippines
8 Mar 13
peacekeepers know the dangers and risks that they get into when they agreed to be sent to missions. thus, the filipino peacekeepers who were kidnapped by the syrian rebels in golan heights knew that this could happen. the worst thing is that they will be caught in cross-fire and get killed. the good news is that they are still alive.

• Philippines
9 Mar 13
Hello mensab, you're right they joined there and expect the worse. i wonder why the UN force had never been that good when it comes to keeping the peace of every nation they go to. at a times, it ends up getting killed,captured or arrested for abuse. there should be more volunteers so that the UN can fully support those who are in-need




• Philippines
8 Mar 13
Do you think that video is genuine ? or scripted.. some commentaries asked that question.. there were connotation that their video is fake or scripted.

• Philippines
8 Mar 13
Hello cttolledo, I don't know but maybe it's accurate if they have spoken tagalog, but it seems legitimate i think. you never know, because they're soldiers and i think there's no way they can fake something like this.but it's nice to know that some people there are safe, maybe they spoke english so that the abductors can understand.