Match of the weekend: Liverpool vs. Tottenham!!

India
March 8, 2013 5:31pm CST
Tottenham would like to carry forward their momentum after the morale boosting win against Gunners in the London derby. On the other hand, Liverpool really have nothing much to play for other than to try and finish above Everton who are 3 points ahead of them at this moment. While the Spurs would like to continue their good run, Liverpool have always raised their game when they play against better opponents, so I expect it to be a good game with goals in it. I think the home advantage might help Liverpool clinch this one!! What are your views on the match? Cheers! Ram
6 responses

• India
9 Mar 13
Alright then. Liverpool have got to lose and I have 3 personal reasons for it. 1. I'd rather see Spurs in CL next season rather than Chelsea/Arsenal. 2. Everton are out of the FA cup. So the only way for them to play in Europa next season is to finish sixth and hope the 2 Manchester clubs go to the final. For Everton to finish sixth, Liverpool have to finish behind them. 3. I hate Liverpool and don't want them to qualify for Europa. On a more serious note, Liverpool have had a couple of outstanding matches in the last 2 weeks and are scoring for fun. Same is the case with Bale. The thing going for Spurs is they've been pretty good away from home this season while inconsistent is what Liverpool have been all season long which brings me to believe that if Liverpool do turn up, it could to be end to end stuff with Liverpool probably clinching it due to home advantage but if they fail, Spurs will sweep them away.

• India
10 Mar 13
Yes, going by the form book of the season, after two good games, Liverpool will have a bad game. I'm praying that happens tonight. Having said that, they often raise their game against the clubs higher than them. I remember they played really well against City and probably deserved to win both times. Even with United, being a man down they dragged us till the end at anfield while at OT, after a disastrous first half, they made a blistering comeback in the second at least in terms of performance. Even after having played well against the top teams, they're yet to beat a team in top 6 this season. That's the irony of Liverpool's season.

• Malaysia
9 Mar 13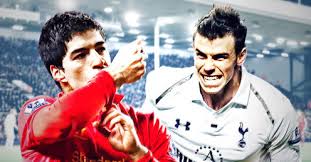 Suarez and Bale are the players that would decide which team will win in this encounter. Both of them are in top form at the moment and it is very likely that they will keep playing well in this match. What about a 1-1 draw with both players scoring?

• Indonesia
18 Mar 13
If you look at games that have followed, I saw both teams play erratic, sometimes they play very unusual, but sometimes the next week they play Shining. But apart from that, the game seems to be running quite exciting, because Tottenham who want to keep their chances of playing in the Champions League next season, and Liverpool who want to improve their posis in order to remain competitive. Surely you can imagine how he called the game. And indeed in the end Liverpool who came out as the winner.

• Indonesia
11 Mar 13
Unexpectable! Liverpool came out as the winner! Great game also with a lot of goals happen. Well, I still support for Spurs rather than Liverpool, though

Hope the best for both teams and fans


• Singapore
9 Mar 13
It should be a good game. A match between two of the best players this season, Suarez and Bale. Liverpool should have the slight advantage since this will be at Anfield. However, with their speed, Tottenham is very dangerous when they play the counter attack game. Being an Arsenal supporter, I hope Liverpool will nick this.

• Singapore
9 Mar 13
Garth Bale is another upcoming rising star that is hard to find . He is currently at his best form of his life , with defoe out for injury , he will have ample of chances to score goals !