Oatmeal Is Not Only for Humans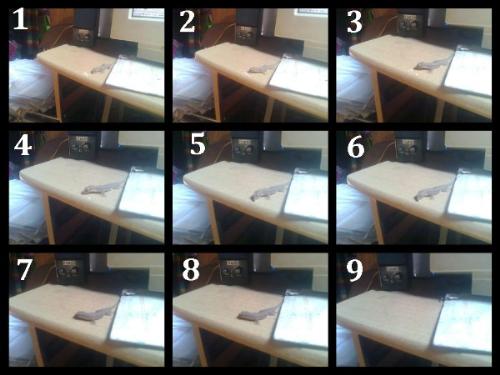 Philippines
March 9, 2013 5:36am CST
After eating my instant cooked oatmeal early yesterday morning, I happened to see something in front of my desktop computer. I was busy checking my emails, updating some of my webpages and even checking the likes, comments and the amount earned in my bank at Bubblews. I never noticed that something is eating some of my spilled grains of oatmeal. Momentarily, I spotted something moving. It gradually came forward to where the oatmeal was located. I got my cellphone and readied the camera to capture the moment of said creature's activity. It speedily went back hiding for it was disturbed by my daughter-in-law who was sweeping our floor in that morning. Now I got enough time to prepare my cellphone camera. A minute later, it finally did its gustatory activity. It enjoyed eating the oatmeal that was left on the computer's table where I prepared my hot oatmeal breakfast. I captured every movement of house lizard that ate the remaining grains of oatmeal that was left on the said computer's table. I was happy seeing it for at least I fed it in anyway.
7 responses

• United States
9 Mar 13
It seems oatmeal is well thought of by many creatures The deer around here seem to nibble on it too It's not just for eating though When my kids had chicken pox I made a paste out of it to relieve their itching and recently when I had a bad skin problem I used it again

• Philippines
11 Mar 13
i've read that it's good for sunburn and eczema, too.

• Singapore
9 Mar 13
Hi Dodoazo, oatmeal is not just for you or the lizard. Given time, you will find ants, cockroaches, rats and other creatures coming to eat the oatmeal. If you have a dog, you will find that dogs love it too. Even birds and chicken love it. I guess God is fair to create a plant to feed so many creatures.

• Philippines
11 Mar 13
[i]I guess God is fair to create a plant to feed so many creatures. [/i] - what a great insight. i love it. makes you appreciate the little everyday things. thanks, scheng.


• Chile
9 Mar 13
THere are many animals that eat grains. THere are small ones such as some insects (take an ant, for instance), and you can even fatten up a hog with it (it would be too expensive though). Lizards eat many things. I have small lizards in my garden and there`s nothing to eat there except for plants and seeds.

• Netherlands
9 Mar 13
Interesting you mention that. I like oat although it's not good for me, but if I tell people they say it's food for animals. Seems I eat way more things other people consider as only food for animals.

• United Kingdom
11 Mar 13
I guess it will be turning up regularly now, now it knows that oatmeal is being eaten and there might be some for him, as long as he doesn't tell his friends, and suddenly one day you find that there are all these lizards waiting to be served cooked oatmeal! Have you named it? He might even want a bed for the night too, and expect dinner too!


• Philippines
9 Mar 13
The lizard must be health conscio

us! But seriously, our dog would eat up anything that he thinks is tasteful. Most probably the lizard like

d the way it tasted as well.