Do you learn something with your child?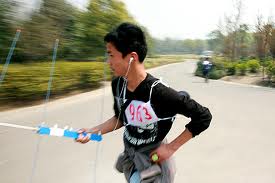 Guangzhou, China
March 9, 2013 9:57am CST
Lately my son has an amateur class called radio direction finding. Boys are always interested in something like that. Besides, I want my son to have more outdoor activities. So this class suits him. I am also interested in it. And I will be worried whether my son can learn it well. So I also listen to the teachers very carefully so that I can teach my son later when he has problems

It is not easy to be a parent

Do you learn something with your child together?
10 responses

• Mexico
9 Mar 13
I have learn alot from my son. One is to love. My son is a great young man. i feel joy everytime I see him walk into a room.

• Mexico
12 Mar 13
hes learned alot the last 2 years, as hes the man of the house. Like they say in the usa.


•
10 Mar 13
i have the best answer, my cousin hated literature, she almost invariably found an excuse to escape the classes at collage. but when her daughter was 10 she showed ultimate interest towards literature and asked her mom to help her. guess what my cousin hired a home tutor and mastered in shakespear. :) but this time she learned it with a lot of enthusiasm and even loved a few plays. i realised true happiness lies in making our babies smile. what say friends?


• India
10 Mar 13
for sure each day is learning day where we get together and learn a lot of things with care and more value always

• Philippines
10 Mar 13
My second son, Tumtum is very intelligent. He talks about everything....like...what is the smallest insect? Who is best between steve jobs and bill gates? Interesting facts about China and the list goes on. The best i learned from him is about fishes in the deep sea.

• China
10 Mar 13
There is always so much for us to learn about from our children. I am glad that your son is having an amateur class for him to learn something that interests him, which is good for him to broaden his field of knowledge. A parent always needs to learn something together with his or her children. Interest is a great teacher. I hope Junior Youless will like it and learn it well.

• Malaysia
10 Mar 13
Youless, since from the day my son was in kindy, i felt that I had learned a lot new things through him. We shared a lot of knowledge and fun together. I even learn from him that playing Lego can sharpen our mind a lot. Besides that, while I am helping him to solve his studies confusion, i upgrade my knowledge as well. It is good that you have the interest into learning new things together with your son.By the way, what is that radio direction finding for? This is my first time heard have such an interesting class... Hope both of you enjoy it a lot....

• United Kingdom
10 Mar 13
Well I certainly learnt a lot when I was working in a Primary school as part of my college course, you can learn so much not just from the lessons, but also from the children themselves. We used to encourage the parents to take part in some of the activities, but most were just glad to drop their children off and pick them up, they lead busy lives. It's a shame. I know I was a positive male role model to some of the children.

• Legaspi, Philippines
9 Mar 13
Hi youless! Yeah, there are several things that me and my children learned together especially on new technology. Actually, they learn faster than I can. Have a great day!