Is there any event in your own home town you enjoy?

United States
March 10, 2013 3:09am CST
I know this is a traveling discussion, but I'd like to ask is there anything that your home town does that you think other people may enjoy or may even want to travel to see? Something that you enjoy that your town or city does every year. I mean I live in a state that isn't usually on peoples list of places to visit. I also live in a city in a state that isn't on peoples lists to visit, but my town does one pretty cool thing every year. They have what we call The Black Swamp Arts Festival. It's named after the black swamp that once covered my town and most of NW Ohio, which is why NW Ohio is mostly flat. It's a pretty amazing thing where my town displays local art. They have live bands all day from various performers none of them are actually famous, but all are talented. Other artists show case their art work. You can buy tons of unique stuff. They have a ton of food vendors. They have children's art activities during the day. The festival lasts from Friday to Sunday on a September weekend. There is always something fun to do. It's the one event I look forward to every year. It started in 1993 and has since attracted people from other states who travel to show their art work or perform their music. At night they close down most of the art exhibits then the festival primarily focuses on the music. They have a beer tent. They also have tons of food vendors and you can get virtually anything you can think of there to eat. The festival itself is free. The music is free. The only thing you pay for is if you want to buy food or anything anyone is selling. Tons of people sell their art work. You can buy tons of cool things there from jewelery to shirts to paintings to I want to say even some furniture. Apart from the black swamp festival my town is also known for The National Tractor pulling championships. It's not something I really care about, but people from all over come here to compete. I am not a fan of all of the noise that comes from it. I can hear it across town. We are also the city where the Olympic winning Scott Hamilton is from. Plus we have a University where some now famous people have attended. Eva Marie Saint went to the University here and so did James Pickens Jr. (Dr.Richard Webber Grey's Anatomy). Just some interesting facts about my town. How about everyone else? Anything interesting about where you are from? Any events or interesting facts?
7 responses

• Thailand
10 Mar 13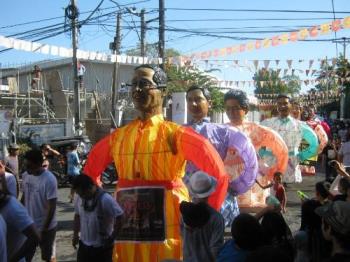 Every November 22 and 23 - a little town in Rizal province celebrates the town fiesta. It is called Higantes Festival. It is one of the well-known Festivals in the PHilippines. Different paper mache giants in human figures are formed. These giants paper mache parade in the town. Every year, new character is being introduced, this year, they had politicians in paper mache like the first one shown here is President Noynoy Aquino, on which the third is President Marcos. Activities such as Dance of the Higantes (Higantes dance), Games of the Higantes (games were participated by the higantes). Majorettes and marching bands competition (again most majorettes and marching bands came from the town, we have a lot of marching bands but other marching bands and majorettes from different towns can join the competition also) and so on. These activities are hold every 22nd of November the eve of the feast day itself. The day is November 23 when there will be a long procession in honor of San Clemente our patron saint. There are street dancers in fisherman/woman costume, higantes, marching bands and majorettes and town people dressed in different costumes (Like mardigras). People from the side streets who are watching also throw water to the everyone from the participants to guests. (they not spared from this). Because Saint Clement was found in Laguna de Bay, Angono part years ago. The spirits are high and everyone enjoys the event.

• Kingston, New York
10 Mar 13
Hi when I was young My town with the help Of the.lion club Had a home.show With a octobor.fest at the Same time.drinking age At that time was 18 I.like the chicken dance At.that time.they do not.do It any more.when I live in St pete fl.they have a internal Folks festivle.it betwern feb.and march Every year .i try to vlounter for Somethimg to get in for free.

• United States
10 Mar 13
That sounds fun. I have been to Florida once, but never to St. Pete. A city a little ways from me has a German American festival. I haven't been to it though. Volunteering can be fun. I've thought about volunteering for the Black Swamp festival here. Although everyone gets in free to ours. Sometimes volunteers is what keeps it going. Thanks for sharing!

• Kingston, New York
11 Mar 13
when they have the folk fstive there all food from all diffenrt countries one time i save for it, I want the strudle oy was it good. have a nice day.

• Hungary
10 Mar 13
It's a bit of a different thing for me, because I live in a capital city (Budapest, Hungary, to be exact), and of course, it always has more events and places that could be interesting for others. It had the most amazing museums - last weekend my boyfriend and I went to our Museum or Natural Sciences, when they had an open day... it was really fun, and definitely something a kid and an adult can enjoy, too. Then, there is the Budapest100, each year, when you can visit buildings that are 100 years old that year. We then have yearly huuuuge concerts (like there is a free one which kind of starts a summer festival in a certain district)... and lots of beautiful buildings, the Opera House, the Parliament looks gorgeous (it has some open days in a year, too), we have amazing theatres (the musical theatres, especially, for some shows, have lyrics in Englush and German, too, for tourists)...

• United States
10 Mar 13
Yeah, most of the big cities do have more than smaller ones, however a lot of the smaller ones are usually more unique. It really just depends what you're into. Living where I do I usually have to go to one of the two bigger cities that are a little ways from us. One is about 30 minutes north and the other is about 45 minutes south. They have a little more to for kids. I would love to have more to do with my son. It sounds like there is a ton to do there. I wish my city had more to do for families. It mostly caters to college kids. So we have a lot of bars and pizza places. Sounds like you live in a great place! Thanks for sharing!

• United States
10 Mar 13
The best things my town does is the Christmas Parade on Christmas eve and the Memorial Day Parade. They both are so long that people take chairs to sit by the road to watch them.

• United States
10 Mar 13
My town does a Holiday parade in November and a Memorial day parade in May. Ours is pretty long too. I have been in the parade when I was in Marching band. It really sucked doing it in May. Had to wear full marching band outfits (golf shirts, coats, shorts, pants over shorts, gloves, and hats.) It was in the 80's and having all that on blech! Then in November it's not warm enough lol. It's pretty cool to be a part of it. Especially since we were right in front of Santa clause in the holiday parade. They do a replay on a local TV station. Parades are always fun.

• United States
10 Mar 13
My small town of just over 7000 has a huge influx of people every September with the annual Apple and Pork Festival. Most of the festivities are held at the 4-H grounds, the old Homestead, and then up Center street the the square in the center of town. The school district runs a bus from all of the schools to the square for a fee to aid in parking. There are other parts around town that host events as well, like a flea market out by the movie theater. There are tons of booths selling stuff, fabulous food, demonstrations of how to make old style rope, lace, and tours of the old homestead.

• United States
10 Mar 13
Sounds like a few festivals from where I'm from. My city is surrounded by smaller towns. I lived in a small town just outside of the city I'm in now until I was 12 and its population was only like 200. There are several towns around here that have small festivals. There is one in a small town about 20 minutes from where I am now that has a apple butter festival. Which sounds similar to what you described, but also different. It sounds fun. Thank you for sharing!

• Philippines
10 Mar 13
i am from Cebu City Philippines., the Queen City of the South. every year we have the SINULOG FESTIVAL this is in honor of the Holy Child Jesus or the Sto. Nino de Cebu. its a very famous festival that tourists from around the world come to Cebu City to be part of our celebrations. even our local tourists some and enjoy.

• Estado De Mexico, Mexico
10 Mar 13
hello there, Its nice to know about this new festival,haven't really heard of it before.I am happy that you enjoy it and at the same time kids are also involved. In my country,you would not believe but we have tons of festivals which we celebrate every year.Basically m from India and at present I am in Bahrain,so i miss all those festivals.For example we have nav-ratri and ganesh utsav one of the biggest festivals in India. These are basically related to our gods where we worship them for 9 days and then we have to sink them into the river ,its actually a ritual. In these nine days we worship them we keep fasts,we celebrate and have lots of fun.I really miss them.As these are the festivals where every person from every religion comes together and celebrate it together.India is full of different religions and according to the religion there are many such festivals,but these two festival brings everyone together and they enjoy together.. And there are many more...would love to share.. Take care Raj