The time change

United States
March 10, 2013 2:32pm CST
So last night we tried to put the kids to bed a little bit earlier hoping that we could kind of keep them on the same schedule with the time change and not have too much of a problem adjusting. Big backfire! The baby was up at 3 a.m. ready for a bottle...usually it is 1 a.m. Thankfully my husband got her but around 4 our two year old woke up like it was time to get up! And then the phone started ringing first thing this morning...on a Sunday! My husband and I could only laugh. Tonight we are doing everything like we normally do and hope for a better night. Did anybody else have a strange night with their kids/babies? Is anybody else expecting problems adjusting because of the time change?
8 responses

• Philippines
11 Mar 13
Oh, that was bad. Our son is already eight years old so we all sleep at the same and wake up almost at the same time. I hope your kids won't wake up too early so that you and your husband can get enough sleep, too.

• Philippines
12 Mar 13
Wow, 3 girls were awake at 3pm. Let's hope that they will have long sleep in the future. I guess that when children are teething, that stage is really troublesome. I hope all of you can take a nap in the afternoon.

• United States
10 Mar 13
Me and my husband put our kids to bed at the as,e time like normal at 9 pm. No problems with our 2 year old and 6 month old. My daughter was up around 7am and our son up a few minutes after our daughter. I don't worry about the time change in the morning I do the sa,e thing and have both to down at there nap times like normal.

• United States
11 Mar 13
Of course it feels earlier but when you stick to the same time even when the time changes happens it'll help.

• Philippines
11 Mar 13
So funny being a parents! :D yes we always have troubles at night with time changes. Mu husband do same thing every night when we still have a baby. But now thanks GOd! They are all grown up!


• Philippines
11 Mar 13
last night i woke up around 12am because my child wants to drink milk and after 2 hours she woke me up again to get her some milk, oh my! 3 days my daughter always get up to drink milk even she already eat dinner and drink milk after going to bed. i don't know if her metabolism is getting faster that is why she always wants to drink milk.

• Indonesia
11 Mar 13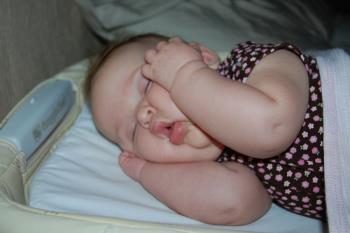 I don't have a baby yet, but my sister does. She also have problem with the time change, she usually wake up in the mid night or early-early morning because the baby is hungry. Sometimes she feel jetlag at day time when she just have the baby but as time goes by she get used to it.

• United States
10 Mar 13
My night was TERRIBLE! My four year old was sick, so instead of going to bed he was in the bathroom throwing up and peeing all over the place. Poor guy. We didn't go to sleep until probably 4am or so. We were all up by 8. Somehow I have a lot of energy and decided to start my spring cleaning. lol. Little man is much better today, and I'm hoping tonight will be easier.

• United States
11 Mar 13
Hopefully you did have a better night. Poor little guy...it is never easy when they are sick like that. I sometimes think it is easier to be up with them if they are sick or when they are little have to have a bottle in the night. But when it is something like this it seems so much harder. It is like something tells them to just wake up and stay up...but it is 4 - 5 a.m......Ahh!!!!


• United States
10 Mar 13
The time did not bother me at all today. I think we will all adjust when times comes for us all. I msure keeping the routine you have today will make it just right for the family.