Murals Instead Of Wallpaper - What's That All About?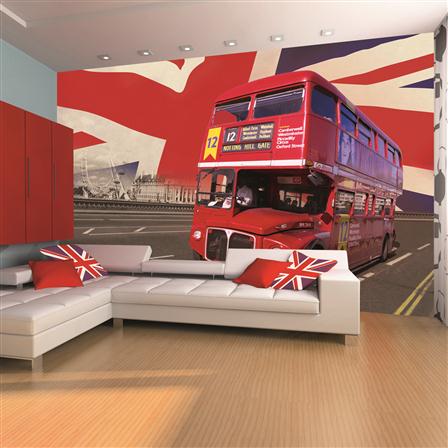 Carlisle, England
March 15, 2013 8:39am CST
I have said many times that I like prints and my idea of fun would be to collect a few - but not too many as it can get out of hand lol. Now, murals are designed to cover a huge expanse of wall at the fraction of the cost of wallpapering. The thing is, if a mural isn't put on right 1) It will start to annoy a lot quicker than a wallpaper or paint job would and 2) Your partner will delight in telling you (often) 'What a waste of money!' Also, you wouldn't be able to put any pictures up as they'd all clash with the mural!

I can't see the attraction of them myself. I can't be doing with those twigs and bits of metal you can fix onto walls as well. Unless you're an artist with bits of er..bits lying around why would you go out and BUY a twig for the wall? I don't get it.

Please feel free to read the description VERY CAREFULLY of a mural I was looking at. It's on a very pretentious site called ACHICA (members only no less but free), a site with lots and lots of things we don't need..like hammocks. I mean, where would I put a hammock? [i]Product Information Add some colour and inspiration to your home with this stunning Iconic London wallpaper mural. 1 Wall's high quality wall murals are made from durable wallpaper and come with full hanging instructions. Presented in four easy to hang pieces, the mural is designed so that you can trim the tops and sides without any loss to the main image. Dimensions: W315cm x H232cm For use on clean, dry, rigid, flat and absorbent walls or surfaces Apply using wallpaper paste. Product Code LONDON-A-004 [/i] Now, there are problems I have with the above description. For starters, it says it is 'presented in four easy to hang pieces' and the dimensions are not THAT massive really. I mean, the photograph I saw had the mural covering the whole wall. It would take some feat to do that in here I tell you. Notice the words 'trim the tops and sides without any loss to the main image.' Yeh, right, not in this house! How much is the one in the photograph? £29.00. A bargain when you consider it's a penny off £60 normally. However, why can't they be made as one panel, rather like a massive poster? Perhaps posters only go up to a certain size. Yeh, that must be it! God, I hope there isn't a 'Keep Calm & Carry On' Mural. That would be my idea of Hell to have one of those or ANYTHING with 'Keep Calm..' on it. Whoever is responsible for all that 'Keep Calm..' tat, please STOP IT!

6 responses

•
15 Mar 13
I quite fancy the idea of a mural, but one done myself with a few pots of paint and a white wall rather than something that comes in four parts! I do take your point that it would be possible I'd get tired of it pretty quick too. Particularly as I'm not much of an artist. Perhaps a kids room only?

• Carlisle, England
15 Mar 13
Kids having murals in their rooms. Excellent idea. No problem with that at all but it's LIVING ROOMS I have a problem with. People showing off saying, 'Ooo, look at my mural' all the time I'd be thinking, 'Skinflint!' Haha! Only Banksie should be allowed to design murals. Hang on a minute..you can buy stickers of his 'work.' God, how naff.


• China
16 Mar 13
If you fix a mural onto your wall,it is hard for you to replace it with a new one.I think mural is suitable for public places such as the waiting rooms of railway station ,airport,etc.I remember you loved the cat prints.Do you change your mind?

• Carlisle, England
16 Mar 13
No, they would be going up the wall alongside the stairs. The area I'd put a different print would be in the hallway itself. There is a large space opposite the radiator that's begging for a print to be hung there..of landscape size. This is my current favourite. I hope you can open the link OK as it's a lovely photograph of a Mountain Lion (Cougar) in Montana, USA. Montana is a State I'd really like to visit, actually. http://www.allposters.co.uk/-sp/Mountain-Lion-or-Cougar-Felis-Concolor-Standing-in-Snow-Bank-Montana-Posters_i8631804_.htm

• China
19 Mar 13
What a majestic animal! Flojo surely loves it too ,because they two are felines .

• United Kingdom
15 Mar 13
Wolfie is laughing, if I tried to put a mural up if it came in more than one piece you can bet your bottom dollar that it would look askew and it would look simply awful. Although having said that I am ace at jigsaw puzzles, I do one every week with my mum, but when it comes to DIY in any shape or form I suck big time. Even if I had to trim, it would turn out wonky, or the paper would tear, or I'd get so angry that I'd end up ripping it up in anger. I am just thankful my ex never got it into their heads to hang a mural, any nutty idea they came up with I was forced to put into motion and woe betide me if I got it wrong. However I could always put a mural up of my ex and throw darts at it when I needed a bit of anger therapy, but then seeing my ex every day I'd want to vomit on it. Sorry!

• Carlisle, England
15 Mar 13
Well, if it's any consolation if I ever saw my ex I wouldn't piss on him if he was on fire lol.


•
17 Mar 13
I would have a Mural in my house a I think that they look quite good though I would have to think carefully about the image that I chose as if I regretted my choice I know it would become really annoying.I would also get a proffessional painter and decorator that had been well recomended to fit it as I am sure that I would miss it up,the edges would almost certainly not match up.That would definitely annoy me more than badly fitted wallpaper.I to don't think that I would have wallpaper with the Keep calm and carry on.Not because I think it isn't a good design in fact I think it looks retro and cool it's just that its everywhere I wouldnt want to look like I was just following some kind of trend.

• Carlisle, England
17 Mar 13
My thoughts exactly! Following what others are doing isn't my idea of fun. It's nice to have a bit of individuality with decor, isn't it? At least with a picture, for example, if you get fed up with it you can change it temporarily for something else..or do what Mum does and swap them around, even in different rooms if necessary. Can't do that with a mural you've become bored with.


• India
16 Mar 13
it is just suave and more trendy all the way and i prefer it because they are more unique and the cm is really cool for sure ,i prefer it the murals depict more visuals and interesting things

• Carlisle, England
16 Mar 13
What you do if you become bored with it? I guess it would be quite time-consuming.

• United States
15 Mar 13
People using murals instead of wallpaper has been around for years. I have always wanted one but they are usually expensive. I would want one with a beach scene.

• Carlisle, England
15 Mar 13
Wouldn't you get bored with it after a while? What would you do then? In my view you may as well wallpaper it as normal, take it off and wallpaper again. To me, they amount to the same thing but they're cheaper. Aaah, I get it now!