The foster is slowly fitting in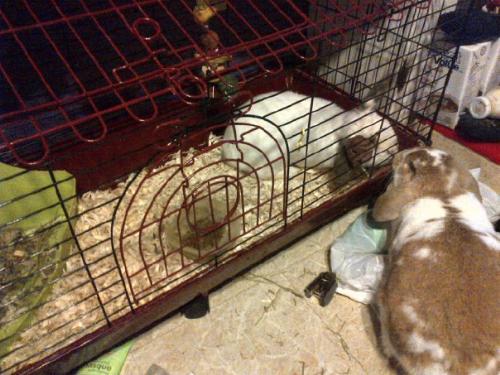 Canada
March 18, 2013 9:23pm CST
I seriously thought the issue would be with Marco, well Marco has been amasing. At first he was scared of the new thing in his cage. But even tonight, he went over, and tried cleaning him through the cage. He lays infront if the cage watching him, like he does when the guinea pigs are out to play. The foster would go up sniff him, jump back and growl. I tink in a few days he may get use to him. Marco was taking a fit earlier because he wouldn't play with him, so he was throwing things around, and giving the death stare to him.
3 responses

• United States
19 Mar 13
Thank you for saying that! You just made me smile. I can see that in my mind's eye about Marci taking a fit. Of I wish I could have seen that.


• Canada
19 Mar 13
Haha! he's like a little kid. I think he just wants a friend. When I first adopted him I was looking at 2 rabbits, but he couldn't get along. I think it was he kept getting adopted over and over again, so the other rabbits in those situations were picked, so he wasn't nice. He will be here a year in May, he's changed a lot.

• United States
19 Mar 13
I wonder if that was more of a "Let me be the older protective brother!" tantrum, or more of a "mom make her play nice!"

The foster was probably just scared, with time she'll get used to him.

• St. Catharines, Ontario
19 Mar 13
That's funny. You were worried about Marco, but it's the foster who is having issues. Hopefully, he'll adjust quickly. (On another note, I sent you a PM.)