About the cartoon Le Magasin des Suicides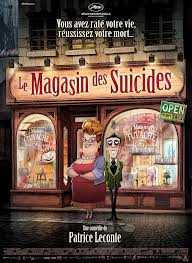 Guangzhou, China
March 21, 2013 9:19am CST
Lately there is a cartoon called Le Magasin des Suicides. I havne't watched it yet. But I know that it is a cartoon concerning about committing suicide. I wonder whether this cartoon will have a bad effect on the children? Did anybody watch it?
2 responses

• United Kingdom
25 Mar 13
Sounds in very bad taste, and I wonder if it's meant for young children's eyes? What happened to good old Tom and Jerry?

• United States
25 Mar 13
This is such a coinicdence, in that I was thinking of watching this last night. The only thing, is that the player does not work well with my browser. But from the comments, people thought it really a well made animation. I can't say for sure, just from what they said, and they are usually mean in the comments sections of these films, they really liked it.