My first experience of zipline!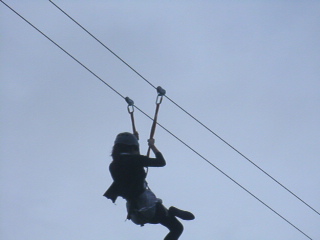 Philippines
March 22, 2013 6:16pm CST
Hi mylotters! Heights is always my weakness since then. But In one group adventure that I had few weeks ago, I overcome my fear of heights and Its a good feeling that I did it despite of my extreme fear. It was scary at first but when I'm in to it.. It was fun.. really fun to the point that I want to do it over again.
4 responses


• Philippines
24 Mar 13
Brillian idea johndur!..LOL..thats maybe the solution to eliminate traffic problem...I wanna try soon the superman style of zipline.. they said its x 10 scary compared to the ordinary type of zipline...

• Pasig, Philippines
24 Mar 13
yeah im sure it will ease a lot on trafic.they should make more of that for public use.


• Philippines
23 Mar 13
good on you. I haven't tried zipline yet. but have climbed some high mountains in the province, the overview of the surrounding is so majestic when your on the top.

• Philippines
23 Mar 13
both zipline and mountain climbing are interesting but zipline is more exciting because you cannot stop once you start. you can only stop when you reached the end line.

• United States
22 Mar 13
Well that sounds so exciting...I have never had a fear of heights and that would be something I would love to do if I wasn't 63 years young..But thats really out of the question now but I still may be able to take a hot air ballon ride...Its on my Bucketlist....LOL..

• Philippines
23 Mar 13
I think you can still do zipline..you will just ride but ofcourse you have to make it sure that you have no heart related sickness before doing the zipline. Why not try...

• United States
22 Mar 13
I also used to be afraid of heights. But me and my friends decided to form a group of mountain climbing enthusiasts and after a couple of mountain climbing, I am totally free of my fear. Of course I am still a bit afraid because one wrong step and it will be a disaster. But I think I am more confident and careful now rather than shaky and crap myself scared. Zipline is something that I want to try soon. I don't think we have that facility where I am at now, but I'll see.

• Philippines
23 Mar 13
I haven't tried mountain climbing, and I'm not sure if i can do it..but i think its effective way to loss weight. yeah you should try zipline.. its fun