Would you believe Peaches in March?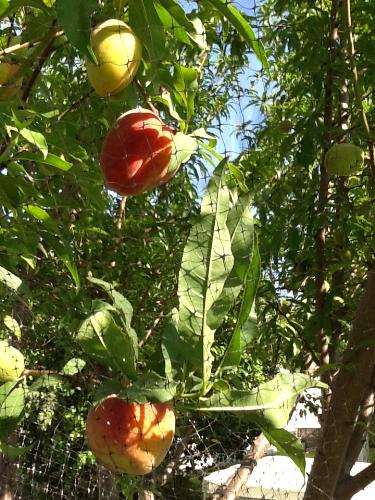 Canada
March 24, 2013 6:54pm CST
Sounds ridiculous you say, but I just took a picture of the peach tree. The neighbors are very proud to have peaches in March here in south Texas. I offered to trade my neighbor basket for basket, grapefruit for peaches but she just laughed at me. Its very dry here this season, but the neighbors have an automatic sprinkler system that keeps lawns and trees green and producing. So what good things do you grow at your place, and when is it ready to eat?
5 responses

• United States
24 Mar 13
we have oranges in our back yard. they are ready to eat right now.

• Mexico
30 Mar 13
We have them here in mexico. But ours came from Argentina. We dont ours here till June..

• Canada
31 Mar 13
Peaches seem to grow in many countries. We have wild plums in Canada, but no wild peaches. My Dad tried to grow peaches on our place just north of Lake Ontario. The tree grew quickly and had a few peaches, then a cold winter killed the tree. However Peaches do well in Niagara, which is near the west end of Lake Ontario.

• Mexico
31 Mar 13
Same here in Mexico. I have wild grapes growing out back here. happy Easter..

• Australia
29 Mar 13
I have some navelina oranges but they are nowhere near ready yet, although I saw some really nice looking ones at the store yesterday. I also have some mandarins and some lemons. Reminds me, I need to feed them all this weekend. It's been a dreadful summer here, no rain, dreadful hot winds and a weeks of temperatures in the 40's. I have lost so many plants.


• Canada
29 Mar 13
Its been hot and very dry here in the Rio Grande valley too, but my neighbor with the peach tree has an automatic sprinkler that waters his garden, and lawn for 15 minutes twice a week, and this makes all the difference. But never the less its been hard for the plants, because I believe they need wet weather, along with the sunshine before they can be completely healthy and vigorous.

• United States
25 Mar 13
I am waiting for fruit prices to come down so I can buy fruit (Randy is diabetic and has to eat fruit). I have a topsyturvy that grows Strawberries and am looking for a place to hang it up. I know that my niece will help me eat the strawberries (if she had her own way she would eat them all up). I would love to be able to have peach trees and also an apple tree. I wish the neighbor would trade with you.


• Canada
26 Mar 13
Yes, I am sure there are Peaches in the Supermarkets in March ( I had not thought of this!) But as you say peach trees don't grow in a Supermarket. I love peaches best smothered with fresh honey in August, at home in Canada. The peaches we get there are grown in Niagara Ontario.