No Snow On Me Almost Gone.....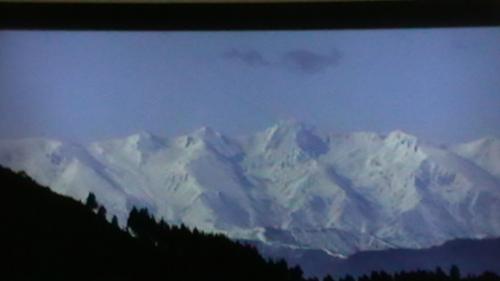 Pamplona, Spain
March 27, 2013 4:51pm CST
Came across a nice story today. There is an old alley way in a certain street in a certain city. When it snows it gets very dangerous to walk on as the snow although fresh freezes very quickly and very bad for elderly people to be able to get around. In fact for anyone its really bad to walk on. Seeing as there are cutbacks everywhere no sand or salt is put down and the elderly people use that passageway an awful lot too. So a kind soul out of his own money bought the sand and spread it all over the alleyway for the safety of all those that walk down there. In that country the snow lasts longer and takes longer to melt too so its a very good thing he has done. He will have saved more than one from a broken leg, or hip who knows. Takes a kind heart to do something like that especially nowadays. I used to grit and salt the path and pavement outside our house over there too. We had a few disabled people that were on their way to the Doctors near to there so we had them in mind as well and for people in the electric wheelchairs that might get stuck.xxx



3 responses


• Pamplona, Spain
28 Mar 13
Hello GM, Never thought of it like that Pay if Forward Stories thanks for that I like to learn all I can in English or Spanish como molas tia lol. Where would we be without the nice stories? GM I like to think that we are all nice and would an arm and a leg for everyone else but alas this is not so and whilst we cannot be "a cryer on the hills" crying for everyone I mean we can live peacefully knowing that there are good people around us. They can exist everywhere in any part of the World. You know I do not like the News but the others in this House do so I hear it sometimes whether I like it or not. I would turn the News off altogether I am cheesed off with their silly news about the Spanish state of money on all levels they act like we all know about the Stock Exchange and its variations. I have calculated that two parts of the News is about this lol. I put lol because what else can you do but laugh? What we are forever hearing about I don´t know about you where you are is the Spanish Credit Rating in Europe you know the credit I suppose it must be in the Banks and Stock Exchange. They are forever saying we are at four percent then its dropped its gone up and who on earth cares about that rubbish because after all said and done when you go the Shops the only thing you can see is that the prices have gone up again. Long live the nice Stories the more the merrier that´s all I can say Viva viva viva.xxx




•
28 Mar 13
Actually I think almost everyone is nice, it's just that sometimes people are afraid to show it. Maybe because they think they are too busy (note I said 'think', no-one is actually too busy!) or because they think that showing niceness is a sort of weakness. I don't know, but I reckon everyone has it in them to be lovely to each other if only they would. The Spanish situation is pretty grim, but shall we just be grateful we don't live in Cyprus this week?

• Pamplona, Spain
28 Mar 13
Hello GM, Me too and yes people are afraid to show it too I have noticed that a lot here. They never say please or thank you that is very rare as well but again like you say its like people will think that they are weak. If only they would so I hold back on being really nice as well because people seem too cold here not willing to dig in there and even smile. I believe in the good in everyone. Well I think that the three Countries I mentioned somewhere else is very grim but again Greece is perhaps the top of the list. Yes you are right have you seen the big lorries of Gold that they are taking out of there? How do they explain that one away? As per usual they will have another Story for that one. I have just seen no less than three brightly coloured lorries of gold going out of Cyprus to who knows where? Very grateful indeed that I don´t live there but I wish I did as it is a lovely place what a shame that the ordinary people have to suffer for the sake of others. If they were nearer I wish they were I would gladly give them something to eat as the Companies cannot pay their employees either from what they were saying.xxx PS:Hope everyone enjoys my photos albeit not the best you can find but they are what I have got and hope they like my own version of "Nessie" lol imagine if she really did have eyelashes like that one?xxx




• United Kingdom
27 Mar 13
There are good people in the world, people that do acts of random kindness that are 'forgotten heroes' they don't do it for the glory, the kudos, or to play the hero, they are quiet, unassuming samaritans. But their act doesn't go unnoticed by everyone! When we have bad snow I always clear my 94 year old neighbour's path, well I do my path, so it's no great effort to do hers as well.

• Pamplona, Spain
27 Mar 13
Heya wolfie, Great thing you do for that little lady to be sure and she is 94 as well. Bless her heart. This person did that also for that alleyway which is quite a bad one I know it quite well and putting sand down is a Godsend for anyone that´s a bit dodgy on their pins. Really its for everyone because everyone can slip and fall with nasty outcomes. Once I had to walk about 5 miles to work in freezing weather and everyone was falling over except me. I could not give credit to my eyes as I am usually slipping at least once or almost. You´re right there are forgotten heroes unsung ones like you its just that they never get heard of or about. But you´ve been mentioned here at least hows about that then.xxx




• Pamplona, Spain
27 Mar 13
Heya wolfie, You´re more than welcome our kid. Right have to closing down for now our kid have a great weekend hugs to your Mom too. Hope the snow clears soon for all of you. Its really cold tonight here too what you might say cold over here you can bet that it is. Even in Granada where you can sizzle away you can get double pneumonia with how cold it can get there.xxx




• United States
27 Mar 13
Stories of real people like this restore my faith in humanity. Whenever I watch or read the news and I just get depress over the going-ons and recent happenings all over, it is such a breather to learn that kindness still live in the hearts of men. May he continue to be a blessing to those around him, and I hope he inspired us as well to go the extra mile to help out.

• Pamplona, Spain
28 Mar 13
Hello Raine, Restores my faith too because sometimes just lately it seems like every day our faith in life itself could be smashed into little pieces but things like these three stories and believe you me I did not of course find them on the News what that is almost unthinkable to find nice human stories they love to throw gloom and doom and us and lessons about the Stock Exchange as well lol. So I have found these stories around me logically this one is about a very young person so I don´t mention who it is at all but the fact that they act like that from their heart bought the sand out of their pocket money says so much for them. Kindness lives everywhere it just takes the right time for us to see it and broadcast it as much as we can goodness knows we need it Raine.xxx