Kiss and make up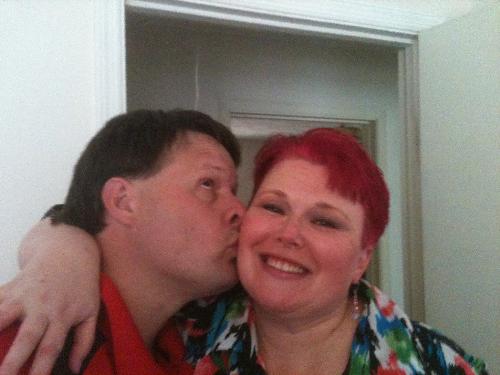 United States
March 30, 2013 2:40pm CST
To me this is the cutest picture. It slows up her hair better. He's getting used to it now. He was upset. He's in a better mood now. We are going to church tomorrow for Easter Sunday. Her hair will turn some heads I'm sure. Are you going to spend Easter Sunday?
7 responses

• United States
30 Mar 13
we are not going to do anything special. we will probably just color a couple of eggs and do an easter egg hunt and have a nice dinner. we don't really celebrate easter, but my daughter wanted to do something this year.

• United States
30 Mar 13
Hi MG! Sounds like you will have a nice day with family. I need to find something to wear tomorrow. I don't have much to wear.


• United States
31 Mar 13
Oh that is going to be a great day. Have fun! Hope to hear about it here on the Lot.

• United States
31 Mar 13
We are going to be going to church in the morning. My gd who is 5 is being baptized. Afterwards going to my daughter house and they are cooking hamburgers and hot dogs. Later the kids will be having an Easter egg hunt.

• United States
31 Mar 13
Sounds like you will have a wonderful day! Have fun.


• United States
30 Mar 13
Thank you! We will have a big dinner tomorrow at SIL's parents home.

• Garden Grove, California
30 Mar 13
hi PQ I am so glad they made up as she looks so darned cute in that hair and that lovely smile.For me Easter Sunday will be just another Holiday here as they hardly ever celebrate the holiday on S

nday if it falls on Sunday as they let most of the help have The holiday off so we have the same mundane meals but Monday we will have an Easter luncheon special and play some games in the afternoon,. an Easter egg hunt.You know this is sort of silly as half of us are not little kids in any way as we cannot get down and look for hidden eggs like little kids can do what the hell do they expect us who are handicapped to do with an Easter egg hunt?



• United States
30 Mar 13
I'm with you on that Easter egg hunt. I couldn't get down either. Sorry that tomorrow won't be special, but glad you will celebrate Monday.

• China
1 Apr 13
The color is really nice and suits your daughter well. I am interested to know how church went and am sure heads will turn.

I wish to have my hair dyed but where I come from, it is scary for me. Starting with health hazards with the dyes used. You know how it is with chemicals and unscrupulous businessmen in my country.

It is quite equivalent to a domestic chemical warfare. I am happy for your family and wish you all happy holidays.

• Canada
2 Apr 13
I got an invite at the last minute. But my turkey was defrosted so I had to make it. Good thing I didn't go because I am really not feeling good all weekend long.

• Lippstadt, Germany
6 Apr 13
Hi dear PQ great the storm was over that quickly. I had a wonderful Easter Sunday went to church with my husband and then watched the new Pope bless us and then snuggled up with hubby and just relaxed till he had to leave to get back to hospital. He had the day off treatments.......