The most enjoyeable or beautiful day of my life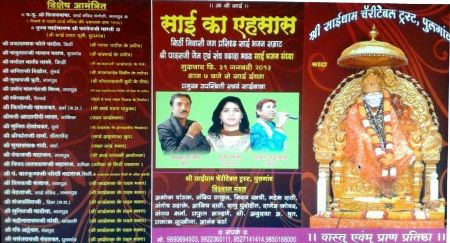 India
April 4, 2013 2:35am CST
I was absent from mylot since 1st April because I was busy in preparation of Welcome the Sai Palkhi. Some days before I started the discussion about SHri Sai temple in our town the most beautiful temple. On 2nd April Sai Palkhi which was going from Nagpur to Shridi and half in Pulgaon. Here in Pulgaon total 11000 deep (diya)burned and the most attraction things are this because from deep Write "Om Sai Ram" and draw the Rangoli around it. Lots of Bhajan Mandal was join this Palkhi I also join the Bhajan Mandal and enjoy the bhajans. We all members are busy for Welcoming the Palkhi and everybody doing their work which is provided them according to President. I feels like Shridi is here because everyone involved in this program happily. Do you have remember attend any such Palkhi programme.
7 responses

• India
4 Apr 13
hello, India is country of festival. So we have much scope to celebrate some days as special day and enjoy it. I am living at location it is call Balaji Dham. It have many temples on one street. So every day is special day because it is associated with one God. But I never participate in these.

• India
5 Apr 13
You are right uncle India is the first country where lots of festival celebrated in different community. I like to participate because different feeling when join I observed man is not interested like women because they are busy in their own office work or business work so they spend some time not more time. But God also know man are more busy than women so they dont take tension.

• India
4 Apr 13
Hi surekha Involving ourselves in Gods work gives are immense peace and happiness which cannot be described by words It can only be felt by onself. You surely did a great job. I hope you are filled with happiness.


• India
5 Apr 13
You are write we cant describe in words, feeling peace and happiness whenever join any God programme. First time I join Bhajan mandal take the annand(enjoy).

• India
4 Apr 13
surekha: In Mylapore near my house we have a Sai temple which is in existence for nearly 50+ years. or even more than that. It is maintained well. Just now on Thursday-- the temple will have minimum 10K devotees. I am happy to note that you had good times in celebration of Shirdi Sai baba pooja. http://www.youtube.com/watch?v=FsDh1DTthoQ good day.

• India
5 Apr 13
Sir video is not opening why when copy and paste the link in other tab nothing display. Wow!!! nice and here also Sai temple is near my home. Mostly I goes for Aarti feel happy.

• Philippines
4 Apr 13
The name of the festivity is not familiar to me, but I am learning from you. You must be filled with joy, as you went through your task, and that is what is important. Glad you posted this, I learned about another culture, and a most exciting one at that.


• India
5 Apr 13
Friend lots of different festival celebrated in India and lots of Temple also in India only. I think every person enjoy when any festival came.

• India
4 Apr 13
Surekha beti

You are doing a wonderful thing, using diya you wrote Om Sai Ram!!!

I am sure you have the blessings and you will become a mother very soon


• India
5 Apr 13
Thanks uncle and yes I trust on Shri Sai Baba but wait when they gives me blessings. Here whole temple was fill with deep and total 11000 diya was there. Most of the women fill the oil in it and put the bati etc. I also involved in this work. Men arrange the diya and a man draw the Rangol because he was specialist of Rangoli.

• India
4 Apr 13
Have you ever visited the Sirdi Temple? When get time, make a trip to here, it is would be a nice experience!

• India
5 Apr 13
Yes I gone once but I want to go once again I trust on Baba they will call me as early as possible. You are right nice experience and recently I watch the news the reachest temple of Maharshtra. Most of the Bhakt wish are completed here so they gives some gold or silver or other things according to their wish.

• India
4 Apr 13
Wow that is great to hear about Sai Palkhi and i am sure it must b very much powerful day for u all to see such a pious occasion happening in front of u. Shirdi Sai Baba's blessings are there on each one of us and we should be thankful to Him all the time and also seek his blessings n support in our lives.

• India
4 Apr 13
Friend I am sharing photo of Sai temple in Pulgaon really the temple is very nice and feel like I am in Shridi. All are doing all necessary work and enjoy. Yes that day was very good and powerful day for us. Yesterday I watch the news Shridi Sai temple is the richest temple in Maharshtra. Total 300kg gold are there and 4crore Rs. collect in 10 days in 2012 first month. BABA always help to every piligrims and you are right their blessings are on everybody's head.