Faithful Dog Returns To Protect Out Of Love,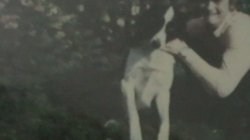 Pamplona, Spain
April 7, 2013 5:49am CST
Was always a faithful dog. A true border collie with all the best of the qualities that the Border Collie has. She was not his owner although she lived in the same house as he. She had to endure really tough moments and the dog was her solace while he was there. In return she would shower him with love in the forms of food and extra warmth like letting him into the house when no one was there lying by the fire so he could take refuge from the bitterly cold winters he had to put up with. She would play games with him to keep his mind and body fit they were eternal companions. One day she had to leave the house and not long after he died he was no less than 18 and half years old. She was never informed of his death either as per usual she had to find out through other means. Although she felt like something had happened but she was not sure. She felt a dog around her but could not see it but could feel it and got to thinking that it was just that wishful thinking. One day she was driving out on a dark winters day and the sky was getting darker and darker. She had ventured out too far and was losing herself along the road. In an instant she found the very dog she had loved so much sitting right in front of her at a distance looking straight at her. Blinking and rubbing her eyes she could not believe what she was seeing. He did not move from the spot. He did not want to move it seems. Then he just vanished. In that instant she felt prompted to turn around and find another road to where she wanted to go so she did. Thinking that she might see her beloved dog again she took another road and this time the same dog ran from one side of the road to the other and just vanished. Later on listening to the news about the traffic she learned that the very same road she would have taken had caved in and the bridge over the river had doubled from the strain. She felt floored by the shock but very grateful that her long lost beloved dog had come back to save her life in return maybe for the long years of kindness she had given him. That day she could have drowned but was saved by this very brave dog who endured so much in its life. Today she recognizes what he did and lives much happier knowing that he is there to protect and help her when needs be.xxx



3 responses

• Philippines
19 Feb 17
Well, i hope something like this has happened in real life. So many dogs have shown loyalty over the years.

• Pamplona, Spain
19 Feb 17
It has happened yes and it is a true Story. I love it when that happens as I have felt one of my Dogs around me very much. He is right there in the picture. Never was there a more faithful Dog than that one. His name is Shep. I say is because he still lives on over there. I love him and he loves me and that´s it.

• Romania
8 Apr 13
It sounds like a dream. It's like you were telling us about a dream you had. I think you got the talent of telling such stories. I liked it, especially that your story had a happy ending. There are not too many cases when people recognize what they did and changing their way of living. Thank you for sharing.

• Pamplona, Spain
8 Apr 13
Hello Octav, It can get to sound like a dream yes. I don´t realize what I have really written till I have finished doing it altogether and I have to tell it just like it is supposed to be whether there be any fable woven around the original story or not. The Dog himself existed and the owner too dog I have put here was one out of the ordinary. In a way I have put him in the photo to honour the breed of dog too. Its written and woven around a true existence that´s all I really want to say. I love happy endings I know there are horrible endings but I think with what is going on around us now we need to believe that there is a happy ending to everything. Thank you very much I am really happy you liked it. Again I don´t mean to scare anyone with this these things happen in real life.xxx





• Pamplona, Spain
7 Apr 13
Hello Jill, It does have some truth in it yes. I keep the person´s name and identity out of it of course. It happened to someone very close to me so the veracity is guaranteed. Dogs do amazing things yes. I think its a lovely story I tried not to make it scary it just happened the way it was and that´s it. All a coincidence? Might seem like it too but again animals have those senses that we don´t have. I often find our Dog barking at something behind me and yet there is no one there.