Wicked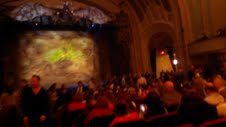 United States
April 7, 2013 12:11pm CST
Last night hubby and I went to see Wicked the musical. The show was awesome, of course. A lot different than the book, as I expected, but thankfully not too different. I was worried it would be absolutely nothing like the book, but I was trying to keep an open mind. The play seemed to add more romance than is in the book.. the book didn't really go into much romance at all, it was more of a political and rebellion thing. Of course the play would add more romance.. that's what plays are about, right.. romance and drama. The effects were amazing.. it was really a lot more than I expected.. but then I don't exactly see a ton of Broadway shows so I didn't know what to expect. I guess I was expecting more like a highschool play or something where props are fake looking and there are no special effects. The effects of this show blew my mind. On top of the stage was a mechanical dragon that moved and breathed smoke.. the props were amazing. Hubby was impressed at one rainy scene that actually looked like it was really raining on stage. At one point the witch was flying above the stage and the screen behind her made it look like her cape was flying in the wind and the cape took up the entire stage.. just amazing! I added a pic we took of the stage. You'll see the dragon above the stage. The curtain is a map of Oz with the Emerald City all lit up in green.. though you can't make that out in the picture. We weren't able to take any other pictures because of copyright and all that.. so this is the best I got. If the show comes near you I highly recommend it! Have you ever seen Wicked, or any other Broadway show?
6 responses

• Jamaica
7 Apr 13
I am happy that you got to see it. Just going into a theatre is always exciting to me - have never lost that sense of thrill and anticipation before the show begins and the curtain is opened. It sounds marvellous but there is no way that I could see it. I have never seen a show on Broadway but always went to at least one show when I would go back to the U.K. on vacation. I did see the show 'The Jersey Boys' last time that I was there before I came home and it was just amazing. I so enjoyed it. Happy that the evening was a succes and you look so pretty in the photograph



• United States
7 Apr 13
Thank you. This is only the 2nd show I've ever been to. I went to The Phantom of the Opera when it came here like 10 years ago.

• Shingle Springs, California
8 Apr 13
It was out here last year, and the tickets were too darn expensive by the time I got around to looking for tickets. Next year it is back, so I plan on getting tickets as soon as they are available, and hopefully I'll have more choice on seats. I've been to many broadway shows. At one point, down in LA, I had season tickets...


• United States
7 Apr 13
Overall it sounds as if you guys had a good evening. I have not been to any Broadway Productions. We did have a very elegant Dinner Theater with professional actors about an hour from us, but it went under due to the economy. I got to go there a time or two. I am looking forward to seeing your photo.

• United States
7 Apr 13
That sounds nice.. I've never been to anything like that.


• United States
9 Apr 13
I've not had the opportunity to see Wicked or any other Broadway show and it is not likely that I will ever have that kind of an opportunity in my life because of where I live and the finances and all of that kind of stuff. That said, unlike you expecting to see something more like a high school play, if I was to go to a professional production, I would expect to see something that was more like a Hollywood production than something that is done by amateurs.