Flower blooming in my Yard #2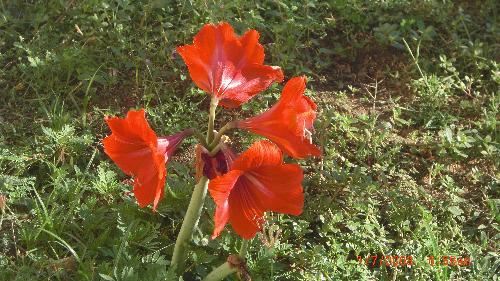 Puerto Rico
9 responses

• Jamaica
9 Apr 13
It is a beautiful flower but I am sorry but I do not know what the name is. It really is lovely. I adore flowering plants.

• Puerto Rico
9 Apr 13
Thank you I just found out from a fellow mylotter that its a Amaryllis. I will now do research on it. Thank you anyway.

• Puerto Rico
11 Apr 13
Thank you! Its a "Amaryllis" as a fellow mylotter found out for me.

• United States
9 Apr 13
It's a beautiful Amaryllis and the color is gorgeous! You are so lucky that you can grow beautiful flowers all year long. I live in Ohio and we get cold weather so it's out of the question, unless you grow it indoors. Very pretty and great photo!

• Puerto Rico
9 Apr 13
Thank you and I feel blessed by God to be living in a beautiful climate. I know what you mean about growing stuff all year round. I have lived most of my life in New York and three years in New Mexico. So I do know about the cold. That is one of the benefits of living in a warm climate year round. I love it.

• United States
9 Apr 13
I guess you do know about the cold then and now I'm jealous of where you're living! It just sounds so beautiful.


• Puerto Rico
11 Apr 13
Sorry please don't be jealous, You sound like my daughter who wishes to have my life.


• Pune, India
15 Apr 13
Hi, thank you for sharing the picture of blooming flowers in your yard. Really the flowers are very beautiful and you must be happy by watching them in your garden.

• Puerto Rico
15 Apr 13
Yes to see these pretty flowers growing in my yard makes me very happy!

• Hyderabad, India
14 Apr 13
Totally how many flowers are there in your yard.... I love to see of the flowers that are blooming gradually... Keep on sending this type of wonderful photos for all flower fans... Rose flower is one of my favorites... Will you please attach it's one snap if possible....

• Puerto Rico
14 Apr 13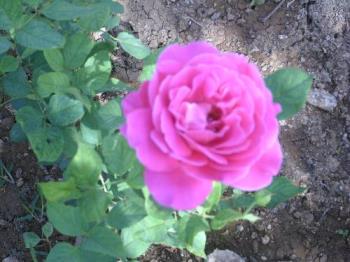 I have four rose bushes I will attach a picture here and hope it works. I have a pink, white, red and white with pink around the edges. I'm not sure which colors I have pictures of but I will send the best picture. I have two amaryllis and marigolds.


• Puerto Rico
13 Apr 13
Thank you, and glad to bring a picture of beauty to you. I haven't seen you on mylot lately are you ok?

• China
10 Apr 13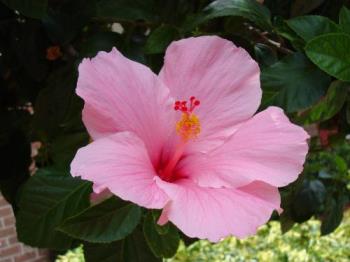 The flower looks more like the Hibiscus which is quite popular in Asia and they come in other colors besides red. They can get quite big with time. I think it is the national flower of a South East Asia country - Malaysia.

• Puerto Rico
11 Apr 13
Thank you but I found out from a fellow mylotter that its a "Amaryllis."

• Chile
9 Apr 13
The picture is beautiful. Where I live, the month with more flowers is October as I live in the southern hemisphere. Now it`s Autumn and although there are some flowers, they are mostly flowers that bloom the years around here.

• Puerto Rico
9 Apr 13
We have warm weather year round in Puerto Rico so we get to grow different flowers all year round. Its great to have beauty in the yard year round. Unlike cold weather place where it can get grey and cold during the winter months.

• China
9 Apr 13
I have lots of plants in my yard. When it is spring, they bloomed very beautiful. But now I am in different city, so I can't see these flowers. You are lucky to own this flowers and see it whenever you want, I am happy for you. Beautiful flowers, and its name should be 'beauty' here in our country, as I have this plants in my yard before.

• Puerto Rico
9 Apr 13
I live in Puerto Rico so we have different flowers growing all year round.

• Canada
23 Apr 13

Yes, indeed it is an Amaryllis....and they are elegant! I nearly fell over when I saw it growing in your Garden! I live in B.C., Canada, and the Bulbs for them are only available about 8 weeks before Christmas, and they cost upwards of $20.00, and are often given as a present here! So, they are grown indoors...but we do save the bulbs from year to year. Therefore I cannot give you any growing advice, as our situation is so different. But, over the years I have collected 9....and they color spectrum is absolutely beautiful, and so my dining room with all 9 blooming at Christmas is splendid! Thank you for sharing.


• Puerto Rico
24 Apr 13

You are welcome. They are so beautiful, I now have two different ones in my yard. I can't wait till they both bloom again. It didn't cost me anything for them. My husband's cousin gave him the bulbs and we just planted them.