Vacation Spot: Enchanted River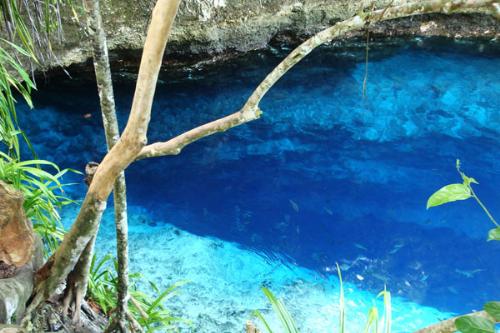 Philippines
April 10, 2013 12:47am CST
Its been too hot this year's summer. So we are all finding things on how to refresh ourselves and the best on the list is swimming. Have you ever heard of the enchanted River Here in the Philippines? yes you heard it right! Enchanted. Interesting isnt it? In Surigao del Sur, there is a known enchanted river(even me, i only discovered it recently) the water is blue/green it turns blue and what was mysterious about it is that no one have ever reach its bottom. There is a picture i uploaded for you to see. There are such many things we Filipinos must be proud of. It is really more fun here in the Philippines! Have a great day :))
5 responses

• Philippines
10 Apr 13
I am definitely dying to see the Enchanted River at Surigao! I love summer for the swimming and Surigao will definitely will be on my bucket list now. I think there's a lot to discover in the Philippines, better start discovering them now before they start to deteriorate and be lost forever. Have a great summer!

• Philippines
10 Apr 13
Thank you for sharing as we go along we really understand how mysterious is nature just like the red sea wherein everything you see is read

• Mexico
10 Apr 13
I love to swim. We used to go all the time in Las vegas, where it was 115-120 degrees in the summer time there. The water would feel so good. Have fun there...

• Philippines
10 Apr 13
what a coincidence, that is our destination this summer. hopefully, it will push through. its a summer getaway for our family and cuzins this year. my brother had been there and he suggested the place. he said, we will stay overnight in butuan then go to enchanted river, a 2 hour drive from butuan. then from there, will take a banca to reach a restaurant in the middle of the sea. wow! how awesome is that! There is also a cave he mentioned, its also in surigao. cant wait! im so excited just thinking about it. :)