China Youngster Made The Cut For U.S. Masters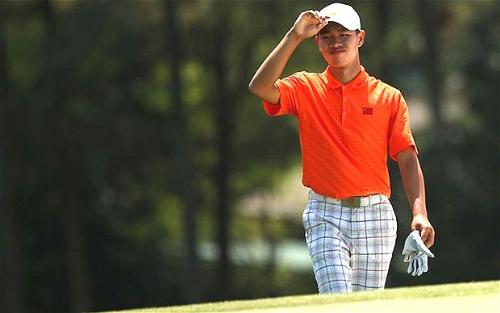 China
April 12, 2013 7:59pm CST
I was reading our local news when I saw that my country's representative in the prestigious professional golf tournament in America - U.S. Masters has made the cut to play with the world's finest, on this weekend. I am so happy and proud for this young lad - Guan TianLang and he is only 14 years old. China and the Chinese golfing fraternities must be jumping with joy when he not only made the cut but history too. His cut must also brought relief to about 60 other professional golfers competing in the tournament to make it for this weekend. Thanks to an error from Australian golfer Jason Day who failed to sink his putt on the 17th but nerve wrecking for our youngster who was penalized 1 stroke for probably the most controversial call of this tournament - SLOW PLAY!

I am hoping it is not racially motivated. Anyway, I've decided to watch the live telecasts for the finals and I hope to see my country's Guan TianLang in action. I don't think he would win but I am sure he will try his best to return credibly for himself and country. I heard that Tiger Woods is playing as well, do you think he will win this tournament?
4 responses

• Boise, Idaho
13 Apr 13
He sure could. They gave him a bad time cause he was taking too long. It would be cool if he beat Tiger Woods. I hope it wasn't racial also. How long did he take anyway? I guess the show must go on but......?!

• China
13 Apr 13

I don't think he would be able to beat Tiger but I am sure he will be making some of the circuit professionals a run for their money.

The penalty was taking 50 seconds to select a club, the regulation is 45 seconds but the reason was because the winds was blowing everywhere and strong. Again, he wasn't alone on such an infringement.


• Boise, Idaho
13 Apr 13
Maybe beating Tiger is a bit much to ask of him. He is only 14 isn't he? I bet he learned his lesson.

• China
18 Apr 13
I don't expect him to beat anyone on the top money list much alone, Tiger - which is in our term asking for the stars in the sky. He is very young but I am happy to see such a great potential and more so, his positive attitude. The way he handled himself with the ruling is already worth the mention. Golf rules does not make any exceptions for anyone much more for a young competitor like him. He is humble and every thing compliant. The ruling to everyone back home is controversial considering the blistering conditions which even his fellow competitors and mentors are flouting that rule. But, like him where he says rules are rules, you just have to respect and accept it.



• Mexico
13 Apr 13
Thats a great story for such a young kid. I saw he got a penalty today. Glad he made the cut.

• China
13 Apr 13
Precisely, it is as if he is the one who is responsible for slow play. I read that the entire field was slow due to the windy conditions on the course and he was being singled out when he happened to be caught with the referee observing him on his rounds. I mean who wouldn't be slow when you are playing for a million dollars prize money. It is just ridiculous. Remembering that old western saying about "Just don't get caught" is this what professional golf is all about? News http://www.telegraph.co.uk/sport/golf/mastersaugusta/9991616/The-Masters-2013-dismay-over-Guan-Tianlang-penalty-on-historic-day-at-Augusta-National-Golf-Club.html

• Mexico
13 Apr 13
I saw that, tonights news said he will at least make some money no matter what place he finished now..


• Jamaica
13 Apr 13
This must be so exciting to have the world's youngest player actually playing in this match. I will look out for the results but as I will be away this weekend then I will not be watching it. Let us hope that he does well. Tiger woods does appear to be playing well again and is expected to do well. will he win? I don't know at all. I am not an avid follower but do tend to watch the big matches on cable.

• China
13 Apr 13
Sound's like you are going to have a great weekend break and you really deserve it, gal. Do have a great one. I understand things are seemingly not going your way but patience, my friend. If you can, try getting your son into myLot and let all your girlfriends here help you out. I cannot bear to see you like this and you deserve better if not, the best this life can give. As the saying goes: "2 heads are better than 1" who is to say that we cannot help your son.

In the meantime, smell the flowers for me, take many pictures and care for your good self.