What do you do on Weekends?

Singapore
5 responses

• Philippines
7 Feb 07
Weekend for me are the great days of the week for it will be one of my quality time with my 3 year old son. When saturday came I see to it we walk into the park and play some ball games with some little children from our community and tries to have fun with them. Sunday was a day for worship I usually go alone in the church for it will made me more time to concentrate with the mass and I really prepared good lunch for the whole family to share with it is a special dish every sunday. Usually my husband was away for work but if he is on vacation we really have a good quality time for each other during weekend watch movie, and sometimes going out for a good tourist spot in the nearby provinces.

• Malaysia
29 Nov 06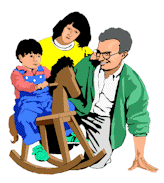 weekends are always our family time. My married sister will come back with her children and we always have a very wonderful time together either just stay at home or to some shopping for groceries .