Matching two rooms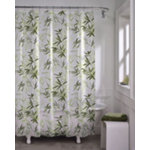 United States
April 18, 2013 9:46pm CST
My couch is light green like a little lighter than a leaf. I have a green bakers rack that is darker. I have dishes that match the couch perfectly. now,the kitchen and bathroom are one hallway separate from each other. I want a shower curtain that matches the couch and the dishes that are going on the bakers rack. is that too much green in one house? My bedroom curtains match my couch as well. but,there is color on my bed. here is the curtain I am looking at.
4 responses

• United States
19 Apr 13
there is nothing wrong with a green house. every room in my house is a different color. i wish i get could that more together.

• United States
19 Apr 13
I really like the house now that it is designed so nice. You will get there soon. don;t worry. take care.

• United States
19 Apr 13
That would be a lot of green for me but it sounds like you love that color. Since it is your house you decorate it the way you want to. If you have a few shades of green even if you decorate more than one room with the same colors it would look good with a contrast of different greens.

• United States
19 Apr 13

• United States
20 Apr 13
Very pretty! A couple of months ago I redecorated my room. I painted the walls a peach color, but it looks more like tan than anything. The floor is white with tan triangles on them so it matches the walls. Then I painted the doors black and it matched perfectly. I look the look because it is not too much of one color. then I started to add some red decorations. I have a red bed sheet on my bed, red chair, and a red decoration on the wall. I really enjoyed decorating more than I thought I would. I enjoyed picking out the items in stores to decorate my room and match the colors, and decorate the walls. It would've looked even better if I really had the money but I think it still looks really good. I can't wait until I am able to decorate an entire house of my own. That would be fantastic. Decorating can cost a lot of money but you don't have to spend a lot for it to look good.

• India
19 Apr 13
I think green is a good color and color of the green trees and green environment. I think it is good to paint the things with green color and also to have matching color for various items. I think most probably light green looks good everywhere.