We fed girls today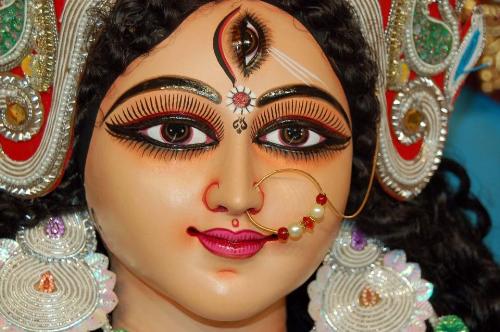 India
April 21, 2013 8:34am CST
My daughter in law had observed 'Navratri' festival, Goddess Durga was worshiped for 9 days, a 'diya' (wick lamp) was lighted nonstop for 9 days. Also similar wick lamp in pure ghee was lighted in 2 temples of our city for 9 days.

As per rituals 9 girls who have not attained puberty are to be worshipped and fed, this should have been done 2 days ago; but today being Sunday we did it. 9 girls aged 3- 6 were invited, my daughter in law washed the feet, applied 'alta' (red color) there and on the forehead applied vermillion and sandal-wood paste. They were fed puri, sabzee, kheer, 2 kinds of sweets, banana etc; after they ate; they were given a gift packet that contained a banana, an apple, chocolate, hair-clip, nail polish, a pen, a ten rupee coin and a note book. [b]The girls are considered as miniature goddess in this festival. This we call; 'kanya-bhojan'; kanya means girl and bhojan means food.[/b] Any similar rituals there? Please respond comment and share your experience if any? Thanks in advance. Professor Dr. Bhuwan Saraf. PhD. April 21. 2013. Cheers have a lucky day ahead. [i][/i]
9 responses

• Singapore
22 Apr 13
It is so fascinating for me to read about Indian and Hindu festivals! The Indian race is traditionally so spiritual and has produced and continues to produce so many spiritual gurus and teachers, it is amazing how rich the Hindu tradition and practices are.

• Philippines
22 Apr 13
hello sir... good morning from the Philippines. we don't have this kind of festival here in my country but during the Holy Week we have a somewhat similar ritual. twelve men are chosen to act as the twelve apostles of Jesus. they dress like the twelve apostles and go around the houses around their parish then they are served food. they are also part of the washing of the feet ritual during the Holy Thursday mass.

• India
22 Apr 13
hi mammots

Thanks for response in details, i am aware of this what you are speaking of.


• Canada
21 Apr 13

Hi Professor I am always interested in different customs that different countries have, this really seems like such an important day for those girls, how exciting for them. In my country we really do not have any such thing but I always am interested in how other's do things thanks for sharing this I find it very interesting have a great day!

• India
22 Apr 13
That is the reason why i share. Thanks for this response.

• Philippines
21 Apr 13
hello dada, This is really interesting and thanks for sharing this information here. I can imagine the happy faces of those 9 little angels. We don't have same festival here in our country. Hugs to you and maa



• India
22 Apr 13
Jane beti

Thanks for this response. I have the pictures still in camera, will load it. While the girls ate i was there, i felt your and Honey's presense, don't know why. Maa is sick. you have blessings from Maa and Dada

• Philippines
21 Apr 13
I loved this ritual since giving importance to the girls / women. We don't have such kind of ritual . I hope the man man around will see how sacred are girls in this world , hope they will change while it is not yet too late.

• India
21 Apr 13
We celebrate our Navrathri during the month of Sravan[Purattasi which is in Sep/October.We have special puja on Saraswati puja day and Vijayadasami; On the birthday of saint Vedanta Desika I light a diya ceremoniously--it is in a lamp base made of homemade rice flour [made in the mixie] and jaggery and using freshly made ghee.I keep a separate set of sari and blouse [Nine yards] and wear this in our typical 'mami' fashion and fast till the diya consumes all the ghee. We pray to Tiruapati Balaji and celebrate this day in a special manner. It is extremely important to me.

• India
22 Apr 13
Thanks for this detailed response dear Kala

On our nabanna new food ceremony and others when the 'kula-debata' are worshiped we too make diya from freshly knead atta flour, kalyani has a 9 yard sari gifted by Santos's boss's wife in Hyderabad.

• India
21 Apr 13
Hello Uncle Ji, Nicely explained!

Correct me if I'm wrong but I think it's called
"Kanya Pujan"
http://hindi.webdunia.com/religion-occasion-durga/%E0%A4%A8%E0%A5%8C-%E0%A4%A6%E0%A4%BF%E0%A4%A8-%E0%A4%95%E0%A5%88%E0%A4%B8%E0%A5%87-%E0%A4%95%E0%A4%B0%E0%A5%87%E0%A4%82-%E0%A4%95%E0%A4%A8%E0%A5%8D%E0%A4%AF%E0%A4%BE-%E0%A4%AA%E0%A5%82%E0%A4%9C%E0%A4%A8-1121019014_1.htm Even at my home mom did it on last Friday and at my home, Mom calls 9 girls for 9 forms of Goddess and 1 boy for Bhairav. Dad was telling me it was very nice, my younger brother had his handy cam ready for whole day, today they had called all the kids to show them the recording of the incidents. Hope when I'll go home, I will also watch the video.


• India
22 Apr 13
Thanks for this response Amit beta Well the name differs from place to place family to family, we had 4 boys too who came with the sisters, so they were worshiped fed too. Not only that 3 mothers came with girls, we fed them too, of course no gifts for them.

• India
21 Apr 13
Wow, yeah i know about this occasion and it was so nice to hear that your daughter in law observed it very well, though we have never done it in our family but i have seen how pious and religious this occasion is. It must be a righteous feeling to clean their feet and offer them gift packets.

• India
22 Apr 13
Thanks for this response, it gives us kind of peace and inner satisfaction.