So you have grand children

India
April 22, 2013 9:02pm CST
It is not always that your children are kind to you in that they exploit the situation of your longing to be with your grand children and they dump them expecting you to take care of them. There are several here who have gone abroad to be with their grand children and return with sad tales of how their children exploit them. To all young mothers here. Would you exploit your parents thus? What are your views on this?
11 responses

• India
23 Apr 13
I am an old mother but I can recall certain things and can also relate to the topic. I have never done this even on the rare occasion. Once or twice I had to go out with my husband where I could not take my son along but even then I would prepare his dinner in a small tiffin box and then leave him at my mother's place; I would not expect her to take the trouble to go in and make something for him because my mother had had her kitchen work finished by four o'clock in the evening. Father would not have any meal for the night and finish his night dinner/idli etc. by the evening itself and mother would keep some tiny portion for herself and wind up all work; I did not want to be the cause of any additional work for her. There were other occasions when she would prepare something special and give us all but it would be at her mood and convenience. I never did like to thrust any of my responsibility on anyone else. Coming to my views on the topic, I think it is case specific and also how parents relate to children. It would seem exploitation to another onlooker because some think cost of labour is high there and housekeepers are not found but some parents like to do this; there are people who like staying abroad and they are contented with children's company alone. For example, I know of a close relative uncle and aunt of mine [very respectable gentleman and was in a high judicial position also] who spent many of their years staying abroad with daughter. They stay for a few months in India and keep going abroad every now and then and it has happened for months together too when their grandchild was small. Even now, they have gone there. I know many people who are happy there staying with children and grandchildren. I have also heard complaints like [not from the same source but some other] that they find life pretty boring there. If youngsters want their parents to stay with them, parents should feel lucky I am also waiting to read about what young mothers would say...

• United States
23 Apr 13
Unfortunately it is not common in the US for children to take care of their aging parents. Families do not live close or share close community ties. My daughter has told me, however, that if I or my husband (who is not her dad) or her parent's in laws or even my brother and his wife who are childless need care that she and her husband are going to be there for us. I know they mean it too. I am a lucky mom and grandmother.

• India
23 Apr 13
Many grand mothers do not expose their children and in fact tell lies, saying, they are happy spending time abroad, tending to their grand children. But logic tells another story. They would be confined in those homes not being able to go anywhere on their own. They would wait for their children to get home and may be get an opportunity to go out at week ends and that too if the couple welcomes them. As many a time the couple would want some relaxing moments for them as they would be working the whole week when they would not want their parents to be tagging along. This is the bitter truth kala. Perhaps your Aunt and Uncle have nothing better here than what they get there.

• India
23 Apr 13
@GG
It is no better in India too. Most seniors are alone. The children take them when they need help. A case in point is that of my Indian friend who is permanently living in the US with her son, DIL and 3 grand kids. This friend takes care of the grand children when the couple is at work. I heard that my friend is keeping indifferent health and so there are plans to pack her back to India as health care in the US is prohibitive!!



• Jamaica
23 Apr 13
@kalav56
: I looked after my grands in my 60's for two years from they were 17 months old until they were three and a half. They were twins too. It can be done and I could lift them but I did have help to do the household chores

• India
23 Apr 13
Yes Cynthiann! I agree. It is a joy and not a chore; I looked after my little grandson right from when he was eleven months old for about a year and of course we did this for love. My husband keeps on lifting him even now; this was my experience talking in the first part of the response; however, if we do not have help for other domestic chores, it would become difficult; in my case also [like you] I had help for domestic chores. A better example would be of my aged parents-in-law who looked after my niece for 25 years[the girl was one with special needs and is no more ; she passed away at 32;I have never ever seen such dedication on the part of grandparents who gave their all, for the sake of a grandchild. We too are of the same belief and parents choose to do it for their children. But while we do it for love, it becomes difficult if children do not realize it--unlike in our cases, because I too have the best child one can ever dream of and we all stay together. In India, it is a very common practice.]. Probably all-knowing has seen such cases and hence posted the discussion. I also keep hearing the stories of select cases like this. !

• Jamaica
23 Apr 13
Yes, I have heard of cases like this especially in the U.K. where I was born. Now it is terrible as old people are beingabused in government homes. We look after our old where I live. Extended family is usually around. My daughter and SIL are building a house right next door to his parents as she knows that his father will not live that long and her MIL will need someone close to assist her. She does have a daughter my daughter is better to her than her own daughter.

• Jamaica
23 Apr 13
I have cared for my grandtwins and my other two grands on occasions and it has always been a joy not a chore. But my children paid for household help and when I had the twins at 17 months I had a nanny to assist too as I was working at that time and yes, I was sixty. I have never fekt that I was taken advantage of and these same children will be looking after, and have looked after me, in my illness. I know that when the time comes that I cannot manage then they will take care of me. This is our way out here. I will not be put in a retirement home but will die with my family around me.

• India
23 Apr 13
This is how our life used to be in India but it is slowly boiling down to seniors living alone, the children having left the shores seeking greener pastures. Most children will take help from their parents but there is no guarantee that they will be there for them when they need them. I am happy for you cynthiann and that is how a family should be - rallying round each other.

• United States
23 Apr 13
I am 63 years old and have grandchildren from age 2 and half to age 21 and one great grand son age 2 months. I love taking care of them and do not find it a burden or problem and welcome every opportunity to do so. I have never felt it was problem or they were dumped on me. I have never felt exploited and wish I could watch them more often. Some of my grandchildren I do not know well because their parents don't let me babysit or rarely. But that is okay too we still see them. I babysat for my great grandson recently it was delightful. So not all grandparents find it to be exploting or dumping some of us welcome and love it as often as we can do it. For me it is at least several times a month. To me family is joy it is love, giving, sharing and the more they are around the happier I am.

• United States
23 Apr 13
There are even times I ask to take 2-3 of them and they are always a delight and fun. And when you have lost a grandchild ( he was four, miss him terribly daily, I had him days and nights often while his mom was going to college and his dad gone two weeks at a time at work and had bis sisters as baby brother as well. ) it is even more precious having time with the others. So never ever is it a problem or burden.

• India
24 Apr 13
So be it Celanith. It depends on the atmosphere around you. You get the vibes if someone is exploiting you. Happy baby sitting!



• United States
23 Apr 13
I almost never left my kids with anyone. I had a daughter in law that wanted us to watch the kids (my step grands) a lot, and no matter what we did it was never right. I have taken care of my grandkids who live far away only a time or two without their parents, and I enjoyed it.

• India
23 Apr 13
Being open about it and asking for help is one thing but alluring with the thought that they get to spend time with their grand children smacks of cruelty. Also many grand parents here are dependent on their children for their daily bread and that makes matters worse. My mother was a grand mother when she was in her forties. She was young and enjoyed this chore. Nowadays many become grand parents when they are in their sixties and that is not the age to lift kids that sometimes weigh a ton


• United States
23 Apr 13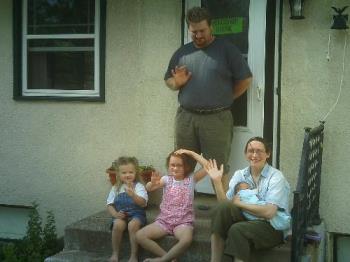 My mom was both a new mom and a grandmother in her forties.

as I have a sister nine years older than I and I had a sister born when I was ten. So my niece and younger sister were close in age. When I watch my grands it is specifically so that my children can have a night out together, or go to something like a wedding. Although I am older than my son in law's parents, and my husband is older than I am we are both in much better health than they are and are more up to the fun of being with grands.


• India
23 Apr 13
My oldest sister had the joy of delivering when her grandson was already 3 months old! Anyway this topic is not meant for happy grand mothers!




• India
23 Apr 13
It is ok if children take the help from their parents but they should be honest about it and acknowledge the help given. The situation today is a bit sad in that children leave the shores and the parents are left alone. Domestic help being so rare children are forced to take the help from parents. But giving the picture that they would get the opportunity to spend time with grand children is wrong.


• United States
23 Apr 13
Okay well, I don't fit in the "young" mother category, but then I was a tad more mature than other parents my own age. I never would do something like that to my parents. It was my choice to have and raise children therefore my responsibility, not theirs. That very thing has been done to me in fact. When visiting. other family they treat me as their nanny instead of an Aunt and sister. I don't like going to see them because that is the only reason they want me around.

• India
23 Apr 13
A request can be entertained but not when it is done clandestinely! It is disgusting when they make you feel that you benefit more than they!


• India
23 Apr 13
Ugh! This niece of mine is a good example of that. She is stuck in our ancestral home and the reason being that she is there to care for her mother. Hogwash I say.She gets the benefits of a free house, and servants who are there at her disposal!

• Philippines
24 Apr 13
I have three kids and i always find it hard to find someone to look after them, during those times that i don't have a nanny i was really lucky that somehow my parents were able to pitch but that was only a day or two as i really find ways to look for a nanny and now i have a nanny. I would rather spend a fortune on a nanny than have my parents look after my kids. Not because i don't want them to be with my kids, but i know how much my kids can be a handful, i want them to be with my kids for fun and not for them to look after them.. plus my parents are a bit old now and it can be tiring to run after kids.

• India
24 Apr 13
You are right jazel. They have their share of looking after their own kids and now is the time for them to enjoy their grand children!

• United States
23 Apr 13
You're talking about something I've never experieced so I really don't have a good answer for you.

I think it would be absolutely terrible of some children to dump their children on the grandparents and leave without their permission....unless there are particular circumstances. I have no problem with watching my granddaughter and my grandson when he was a little chap. Big difference in age between the two of them, but they were never dumped in my lap. I watch my little Lucy (six years old) whenever it's needed but it's not a constant thing. I share with the other grandparents so all is well. I will be babysitting next week for a couple of days because my oldest daughter is helping out my youngest daughter at work. This will be our special fun time and we make crafts together....love it. I can honestly say I was never taken advantage of so it's a good thing.

• India
24 Apr 13
Both grand parents and grand children love to spend time with each other. But when children exploit the situation, which happens often, is what I was trying to highlight.

• China
23 Apr 13
I am a university student in China,so I have never meet the situation what you described.But I was angry with these peoples attitude to their partents.Respect the elders was one of the fine tradition of Chinese nation.SO I call on the mankind from the all the world can respect the elders.

• India
24 Apr 13
The more we look at the situation the more it boils down to circumstances. Children here more often than not leave the shores seeking jobs elsewhere. And when they get children and have no domestic help around the parents willingly help but there are a few who make the parents believe that they get to spend time with their grand children. If you have no plans to leave your country and live close to your parents then this problem will not arise. Also if you can manage your life without any help from your parents then exploitation ceases to exist. Fact however remains that grand parents love their grand children and vice versa and therefore they should get the opportunity to spend time with them.

• United States
23 Apr 13
I wish my kids would "dump" my grandkids on me but they don't. I seldom get to see them because they are so busy. My parents and in laws used to ask to watch my kids all the time when they were little. I wanted my kids to get to know their grandparents before it was too late.

• India
23 Apr 13
Yours is indeed a different story. The situation that I have highlighted is not an every day affair but is becoming more and more evident. Surely grand parents love their grand children and there is no doubt about it but there are cases when children tend to take advantage of the situation and exploit them.