Water theme Park or Beach Resort?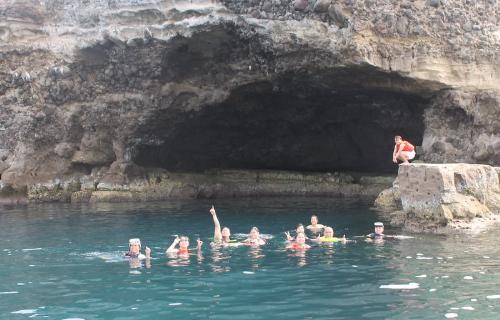 Philippines
April 22, 2013 10:44pm CST
I have just come from a two day vacation (just over night trip) and we had gone to a private resort where members and their guests are only allowed in the area. They have a clubhouse, and a beach front access. i attached here a picture! =) I do love outing, but i am not fond of the beach.. i guess this has been what my thoughts are that the sea is dangerous, and it makes you really dark by over sun exposure. haha and the sea water is not good for swimming because its salty and its very wavy!! haha it changed though when i went to Nasugbu Batangas, and Boracay of course. The beach was clean, and it was quite a pleasant surprise!! =) i loved even our boat ride!!! There's just too many activities to do in the sea! here's a photo! :D I still love the pool though, especially that there is a jacuzzi, and if its an infinity pool! :D he he
8 responses


• Philippines
23 Apr 13
When I was younger, I always wanted to go to the beach. It is where I find solace after all that I have been through. Well, I really did not have much problems then, but the comforting warmth of the sun and the hypnotizing waves just makes me feel like I am in another world where I can be just me. So much for the drama!

Now that I am older, I dread the heat along the beach as I wouldn't want to make my skin dark. I wouldn't want to see my face all burned up as if I have been roasted!

• Philippines
23 Apr 13
Haha we're exactly the opposite! !! I like the pool better when I was younger and I was never really a fan of the beach then because I was more conscious of my skin color and not getting sun burned. But now I do mot really care as much annd I love beaches more now because its so much better with the scenery amd the fresh air and is better for relaxing.

• Philippines
24 Apr 13
I have not been to the beach for quite a long time. And I just really hate having to get sun burnt. So most of the time, I would just let my kids join my parents and sister with them.

• Singapore
24 Apr 13
So far I tend not to like beach holidays so much, I don't like to go into the salty seawater like you mentioned, but I do like walking along a sandy beach if the sand is very fine, it feels quite nice. Unfortunately most of the beaches I have gone to tend to be crowded. Speaking of water theme parks, if you have not you may want to visit Disney Sea in Tokyo, it was really nice and even my parents loved it.

• Philippines
26 Apr 13
hi there!! its the same with me, that is what i do not like about the sea, the saltiness of the water. he he but agree on how wonderful it is to be walking on the sandy beach... and to just feel the nature, fresh air, etc. Oh wow! i haven't got such a budget to go to Tokyo.. but i think i would love that!! =) Thank you so much for the suggestion. I'll keep that in mind.. Disney Sea Tokyo. =)

• Philippines
24 Apr 13
Hi chiyosan! Which resort in Nasugbu did you go? We have also just came from a beach trip and it was in Puerto Galera. We went there as a triple celebration of mine and two of my friends' birthdays. :) We went there last Saturday and went back home on Sunday. I am also afraid of big waves in the sea but when the water in the beach is calm, I love swimming! I can't even care if I get dark or get sun burned. :p I just love to swim in a crystal clear, calm and cool water! But I don't open my eyes under water because it stings. :p I definitely got a sun burn after that trip. But Puerto Galera has a beautiful sea!!! :D

• Philippines
26 Apr 13
Hi there! i haven't been to Puerto galera but they say Boracay is better anyway and im good with that for now. haha ;) We went to Punta Fuego with my boyfriend's friends and it was indeed a very good experience! :) Love that the place was not crowded even on a busy summer weekend. I enjoyed the beach, and the sea is very calm!! though we were not brought to a good spot for a nice snorkeling.

• United States
23 Apr 13
I'm glad to hear that you had a great time. I agree with you though about the ocean. I'm starting to feel more paranoid about lakes and such with all the bacteria,etc. I much prefer a pool area for my daughter and I. We don't go swimming a lot but those are the type of attractions I'm going to look for in the near future.

• Philippines
26 Apr 13
hi Dominique! thank you so much!! =) the water pool parks here have become so limited actually and people are almost all the time thinking of beaches to go. But i agree that the pool is so much safer than the sea. There aren't lakes around much here in the Philippines but i'd say it can be a good option too. =)

• Philippines
23 Apr 13
Now I want to go to the beach too! :)) I prefer the beach beause I find it more relaxing. I just like the feeling of walking in the shore and there's something about the beach that relaxes me :) And I don't like going to water theme parks because the water is dirty and resort owners don't normally clean the pools and just put lots of chlorine in it.

• Malaysia
23 Apr 13
If you have kids, then water theme park would be best fit for the whole family especially for the kids. As for me, i would prefer beach resorts as i love the natural scenery of the sea and relaxing by the beach which is not as noisy as in the water theme park.

• Philippines
23 Apr 13
Yeah. The nature is really the one to beat v when it comes to choices. Its always the v winner because the activities are not limited when I it comes to the Beach and the air is always really fresh and the feeling of being in such place is better when you are in a theme park. Thanks so b much for your response.

• India
23 Apr 13
Well i can understand your thoughts and even if u are not liking the beaches then u can enjoy your stay at the resort or even u can take sun bath at the beaches, there is no compulsion to take a bath at the sea or beach whenever anyone goes to any beaches. I am glad that u enjoyed your trip.