Turbo is home!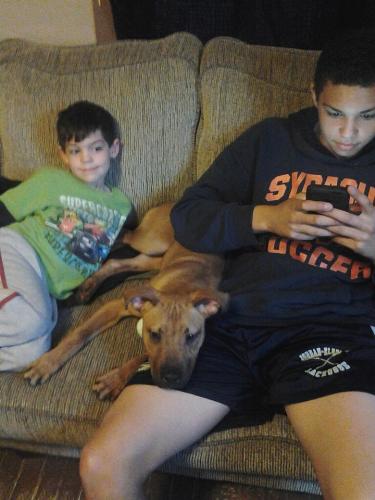 United States
April 26, 2013 8:19pm CST
We brought Turbo home from the shelter this evening. He's very happy to have a family! He is already very attached to the kids. He likes sitting with them on the sofa, the way he is in the picture. He doesn't like not being near them. When we take him outside on the leash he whimpers if he can't get to the kids. If the kids go in without him he whines and whimpers and tries to get in the house. Obviously he's got some separation anxiety and thinks if the kids leave his sight he won't see them again! I think it's adorable.. but also sad because of what he must have been through to cause this. He's got a ton of energy. He does jump, we're going to have to try to get him to stop that. He has already hurt both the 5 and 6 year old boys by jumping at them.. they aren't much bigger than him. I expected this because he is so young and hyper, and I'm confident we can make it stop. For now I'm trying to remind the younger boys to stay calm around the dog so he has no reason to jump. If you have any advice on how to get the dog to stop jumping, aside from telling him "no" each time he does it, I'd be more than happy to hear your suggestions!
4 responses

• United States
27 Apr 13
Turbo is a cutie and I am glad he is fitting in so well with your family. He just looks so happy and content right there between the boys. I am sure you will work out all of the kinks. It will take a bit of time because he is immature at the moment. I really don't know what to tell you about the jumping problem. Just a firm tone is what we do for our dogs around the boys. I wish you all the best with the training!

• United States
27 Apr 13
Yeah, he's still a baby, and I keep telling the kids that. The older ones get it but the younger 2 are about as excited and hyper as the dog right now!

• Shingle Springs, California
27 Apr 13
Push him off and say "off"

• United States
27 Apr 13
He doesn't really jump and stay up.. he sort of just jumps straight up in the air out of excitement or something.. especially if he's on a leash and can't reach the kids. Right now he's sleeping on the sofa and the kids are surrounding him petting him.. I think they're all in heaven right now.

•
27 Apr 13
"off" is a good command. A lot of people use the command 'get down' which to a dog is too close to the command 'down' for when you want him to lay down. So if he jumps, push him and say off. Then tell him to sit. AFTER he sits, pet him and praise him. He'll learn then that the way to get attention is to sit, not jump.

• Jamaica
27 Apr 13
In my time of having dogs we used to tap the dog on his nose with a rolled up newspaper. Never a hand as a hand should only be used for petting. But now a days this maybe considred abusive. So I am not any help here but many congratulations of getting your dog. He looks so happy between your boys


• United States
27 Apr 13
Well my husband said to use a swat on the nose if we have to.. but so far we haven't, we just say "no" or "down". I think he'll get the hang of it eventually!


• United States
27 Apr 13
Yep.. I think he will! He's about the same size as my youngest now!