Candy Crush Saga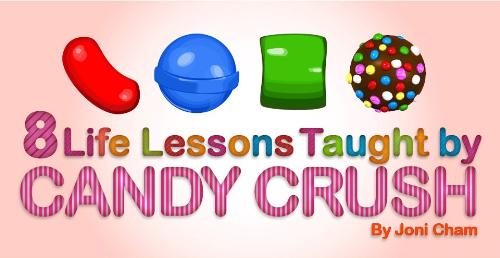 Philippines
April 28, 2013 3:15pm CST
So addicted to this game when I started playing it.Stuck at level 72 up to now and Im taking my break so I'm here discussing about it for a moment

.Just wanna share some facts related to this game...this had been shared in facebook though. In many ways, Candy Crush is just like real life, with 8 lessons we can use four our day-to-day lives. 8. Life is not always fair. Sometimes you get lucky with a good board, sometimes you don't. Deal with it. 7. Persistence is the key to success. If you persist long enough, one of these days you are bound to get it right somehow. Or get lucky. Or both. 6. Ask friends for help when you need it. You'll be surprised at how many are able and willing. 5. Help friends as much as you can. Life is all about give and take after all. 4. There will not always be friends who can help you out. It happens. Suck it up and wait. 3. You won't always understand what's going on. That's fine, you're not expected to. 2. Chocolate is evil. It will mess things up. 1. Life is equal parts fun and frustrating. It is full of challenges every step of the way, yet it can also be sweet and colorful! So true right?!!!
4 responses

• Philippines
28 Apr 13
I read this in facebook as well. Hey, if you are using your mobile phone to play Candy crush, I learned one trick. If you are out of life, just re-set the time in your phone, add 5 hours and then go back to the game and you will see that your life is full again!


• Philippines
29 Apr 13
hey, how was it? Did the trick work? I actually heard that from a radio program on the way to work!


• United States
13 Jun 16
I have heard of this game and how people are super addicted to it! Blessings

• Philippines
28 Apr 13
Sadly, I haven't tried playing Candy Crush though I have seen a lot of posts and notifications of my friends inviting me to play. Maybe I'll try it one of these days. Thanks anyway for sharing those 8 facts with us