Missing that opportunity!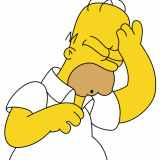 Philippines
April 29, 2013 8:20pm CST
Yesterday, we're at the mall and saw a lot of beautiful dresses. And since I will be attending wedding celebrations this month, I would like to buy a new dress. I really want to buy the dress but I was contemplating if I can get it cheaper at online shops. I was trying to remember if I saw the same dress online and has a cheaper price. So I let it go, still having lingering thoughts about the dress until we get home. Then today, upon sitting in front of the laptop, I checked my trusted online shops and saw that same dress and it has cheaper price! Winner yo! But at the end of the page, it has a red mark saying "out of stock". I can't get back to the wall-to-wall store anymore because I'll be spending much more instead of buying online. And yes, I can buy another dress but it wouldn't be the dress I feel in love with. I know it's a small opportunity but I still missed having something I want. I missed the opportunity that's within my reach, already almost in my hand. Would you like to share similar experiences? Thanks!

5 responses

• United States
1 May 13
I have had these days as well. Never over a dress or anything so nice. I am always messing up my grocery shopping deals these days. It is very frustrating. I have missed out on plenty of deals with clothes that I wanted because I did not have the cash at the time of the sale. Such is life.

• Philippines
30 Apr 13
Well,I think that dress was not meant for you because if it is, You'll have it with no hassle.don't worry about it.Besides, you still have a lot of time to find a good one at a very low price.Just be sure next time to have no second thought of getting things you want, Don't miss the chance.Anyway,Hope yo enjoy the wedding and best wishes to the couple.Have a nice day!

• Philippines
30 Apr 13
Ouch! If only you know that it will be out of stock on online store. But like they always say, regret is always at the end. Maybe, next time grab the opportunity, because opportunity knocks only once.

• China
30 Apr 13
Sorry to know that you missed your favorite dress. But you can check from aliexpress.com where many lovely things from China are very gorgeous. I also have the same experience with you. While I liked some book very much, but I don't have enough money at that time, but there is none left after I came back for it.

• United States
30 Apr 13
Well sorry you had so much trouble with finding the dress!

Don't really have any similar thhings like that that have happened to me although I am sure it has before I am just having brain freezes like all day! he he he L.O.L. Have you tried the site No More Rack? They have some pretty nice things there!