Love u dad!!!!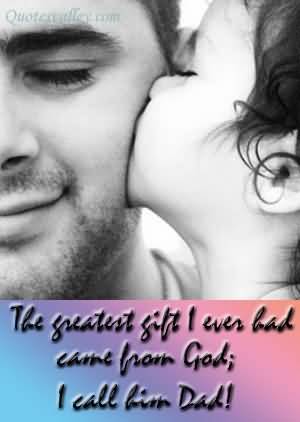 India
May 30, 2013 5:22am CST
A father is his daughters first love and his sons first hero. God took the strength of a mountain, The majesty of a tree, The warmth of a summer sun, The calm of a quiet sea, The generous soul of nature, The comforting arm of night, The wisdom of the ages, The power of the eagle's flight, The joy of a morning in spring, The faith of a mustard seed, The patience of eternity, The depth of a family need, Then God combined these qualities, with nothing more to add, His masterpiece was complete, whom He called… DAD Love u DAD.......
1 response

• Delhi, India
30 May 13
Very well said Anamika. Did you write the poem yourself? The connection between father and the daughter is a special one and no such relations exists in this world, as close as a father and his daughter. The support of parents (specially Dad) does help a daughter to fight the evils and hardships of life.

• India
30 May 13
truly speaking, complete poem is not written by me. I made some of the modifications and additions into it. Its a poem from a school text. I loved it, so shared it with u all...I m quite close to my father, he is my inspiration n pathfinder to me!!!

• Delhi, India
31 May 13
@interestinganamika
- I appreciate your honesty

. Thanks for sharing such a beautiful poem with us. It does not matter if it was not originally written by you.