Sri lanka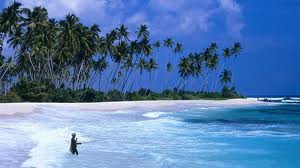 Sri Lanka
October 4, 2013 1:34am CST
I think Sri lanka is a great island.It's a beautiful island,I love this country,if you like have some fun in this summer you should visit sri lanka.
3 responses

• Calgary, Alberta
4 Oct 13
is it currently peaceful? i would consider visiting it if there is no conflict.

• Guangzhou, China
4 Oct 13
Hi. Yes, Sri Lanka is a very beautiful place to visiting. Before we have one customer there but very long time no hear any news. I heard from someone, he said Sri Lanka is not in peace, mostly have war....is it true?If u can show some good view, then i will feel that i has been there..... Thank u for sharing.

• Secunderabad, India
4 Oct 13
hi i just now joined this site and happy to responde you for the first time. my father had been to lanka long time ago and i am visiting lanka next week. my father loves your country and i am going to stay in your country for one month any how wishing you happy time in mylot