Happy Thanksgiving everyone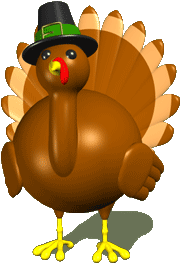 United States
November 23, 2006 4:19am CST
I hope everyone has a wonderful Thanksgiving today Oh, What a Feast! Turkey and gravy Corn on my plate. Oh, what a feast for me. Cranberries and stuffing I can't wait. Oh, what a feast for me. Bread and potatoes Dessert is great. Oh, what a feast for me. I love Thanksgiving Fill up my plate. Oh, what a feast for me!
6 responses

• United States
23 Nov 06
Thank you and Happy Thanksgiving to you and yours too and of course everyone else who reads this. I am going to my son's house but my boyfriend and I are doing the cooking.

• United States
23 Nov 06
Well, I am not sure what we will be doing today, but we will going somewhere special to eat I am sure. Just cannot wait to have some Turkey.

• Portugal
23 Nov 06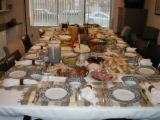 And a Happy Thanksgiving to you and all. I do not have a turkey with all the dressings because they don't celebrate the day here in Portgul. Add to this this the fact that I have no American friends to invite me to celebrate the day with them. Oh well, that's life in a foreign country. PS: table reminds me of the Thanksgivings at our home when I was growing up.

• United States
23 Nov 06

well do you ever get to eat turkey and dressing some other time of the year? Actually I fix dressing with chicken mixed into it everyone in my family enjoy it better that way. Then I bake a ham and all the veggies and desserts. I hope you have a wonderful day. Oh yes and next Thanksgiving you are more than welcome to come to Texas and have thanksgiving dinner with my family. If you ever get to Texas anytime email me and we can get together and finally meet in person. I know I would really enjoy it

• Portugal
24 Nov 06

No, the only turkey I eat here is turkey steaks. Once in a great while I think it would be nice to have a big family gathering like we did when I was a kid. Always spent both holidays with my grandparents, uncle and aunts, and of course cousins. We alternated holidays....if we spent Thanksgiving with maternal grandparents then it was Christmas with paternal grandfather (widowed). The following year it was the opposite. Both sets of grandparents lived in the country and we had a ball. Thank you so much for the invitation. You may be sorry you made it cuz I tend to do things at the drop of the hat. Never plan anything. I loved Dallas and Grand Prarie (1952 and I'm sure its different today). Had the most delicious barbecued chicken in my life.....Restaurant was call Red's something of other.... Also visited Laredo several times when i was TDY in Monterrey, Mexico, and San Antonio. I'm not too sure I want to return to see the changes....Laredo was a quaint border town then. PS hope you didnt overdo it yesterday and find it hard to keep your eyes open at the keyboard today.