Jamie Oliver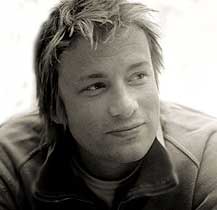 Australia
November 23, 2006 5:15am CST
I just watched a Jamie Oliver specail on tv, and it made me wonder does everyone like him or am I only of the few?
5 responses

• Australia
24 Nov 06

i watched that it was good. Did you watch the Fifteen series too, that was even better. A girl at work went to the new restaurant a few weeks ago and said it was good, expensive but worth it, apparantly there are booked up for weeks. Well i love watching jamie and i think he's gorgeous!


• Australia
8 Dec 06
Jamie Oliver is a chef turned celebrity chef, he opens up restaurants and trains disadvantaged kids. Bless 'im.

• Australia
10 Dec 06
i think he is overrated pretty much ,dont really like him anymore

• Singapore
24 Nov 06
oh..u r not the only one! i love his show too! I've learnt loads of things. He is so cool!