Koch to Republicans: All of your voters belong to us!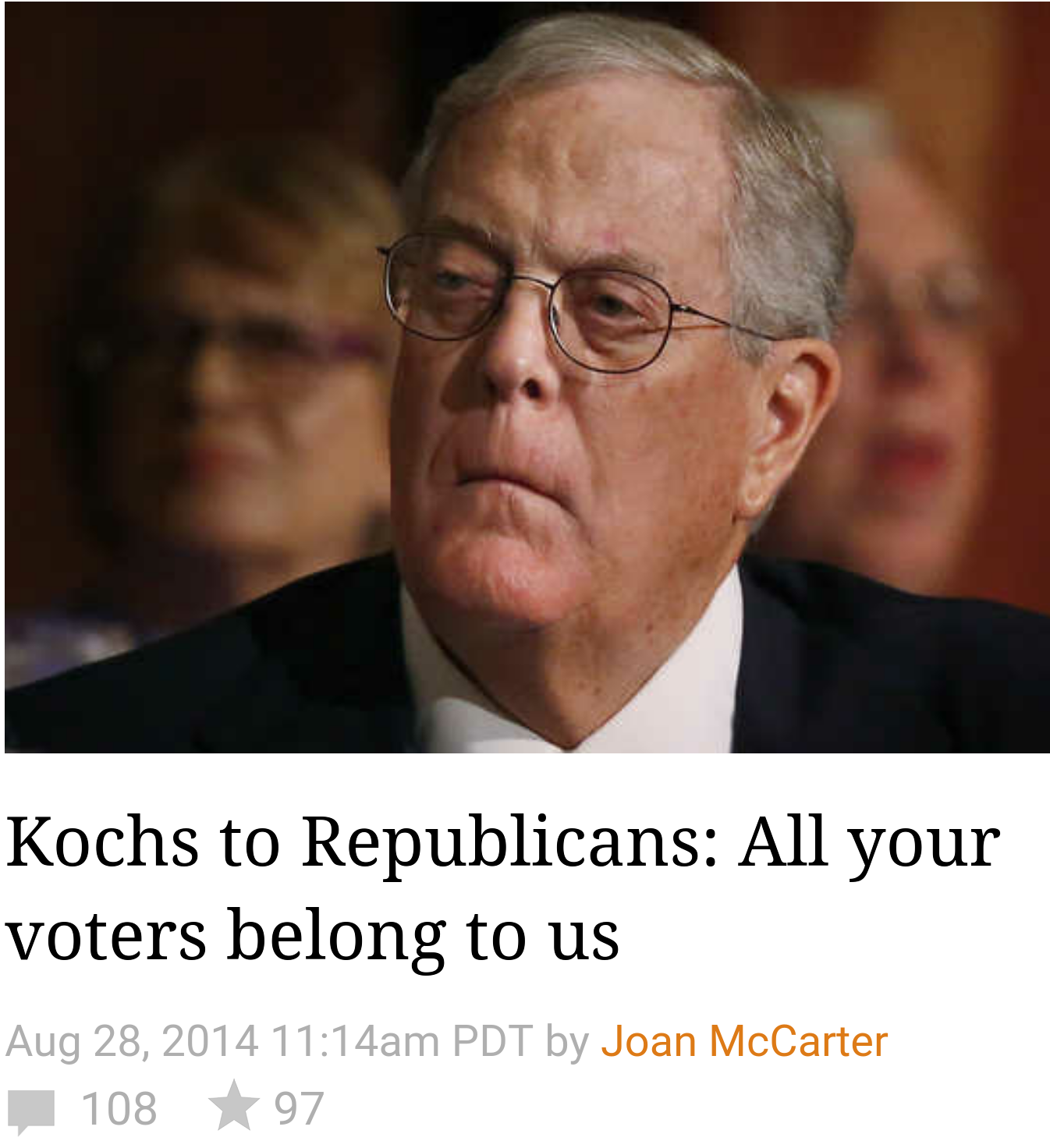 United States
July 31, 2015 2:26pm CST
This statement was made in August of 2014. Now the Koch Brothers control what was once the Republican Party. Do you really want those arrogent @ssholes controlling anything?
1 response

• United States
2 Aug 15
and who do you think is running the democratic party.....open your eyes and you could see that both parties are being run by rich people that have the same agendas....Big Government and control of the people.... Most politicians talk big and sound good but none of them care about anything but themselves....(all sides)....If they did this country would not be in the condition that it is in today. The downfall of America has been in the works for a very long time...The one world Government and complete control of everyone can not take place until the U.S constitution is completely destroyed...

• United States
2 Aug 15
The Democrats want no expand Social Security and Medicare not eliminate it. While I think that the Healthcare Act could have done more to control medical costs, I wouldn't have been able to get health insurance without it. The Democrats are taking steps to make college more affordable, in some cases, free! The Democrats want to make the rich pay their fair share of taxes and given tax breaks to the middle class! These are just a few things that the Democratic Party is working on.

• United States
2 Aug 15
@flpoolbum
How much do you pay for your health care ? Social security and medicare are paid for by the working people...it would be better if the Government would have left the money in it instead of using it for other things...How can collage be free...It may be free to the people receiving it, but someone is paying for it, it is coming out of someones pocket... You need to open your eyes and take a big look around this is turning into a socialist country...The rich will always be rich...and if you took a honest look you would see that all that is happening is the middle class is dispersing and becoming part of the poor..... Everyone needs to pay their fair share.. The Democrats are no better than the republicans....They are both doing the same thing to destroy this country... and the constitution. Free, free free stuff is not free someone is paying for that free stuff.... People need to start taking personal responsibility. not depending on the Government and what they can get for free....The bigger the Government becomes the more taxes it is going to need from the working class to pay for all the free stuff people expect....

• United States
5 Aug 15
@dlr297
That's why I always say that we should FIRE CONGRESS. Vote all incubate out of office-no exceptions. If we can do this, then we can demand and receive strict election and campaign reform. But we, the American people, need to work together to succeed!