Tragic death of Cecil the Lion.

Pakistan
August 5, 2015 1:01pm CST
Dr. Walter J Palmer, a dentist from Minnesota, USA, recently killed a famous and much beloved lion in Zimbabwe. Cecil the lion was first wounded by an arrow. It is believed that the big cat was lured out of the national park where it was protected by using a bait. Then the injured animal was tracked, shot dead, skinned and beheaded as a hunting trophy causing a lot of outrage among animal lovers. Dr. Palmer however refuses to accept any fault and has laid the blame on the local guides who were hired to get permits and deal with the paperwork. What is your opinion regarding this incident. Some people feel that money from hunting licence and permits brings much needed money to the poor third world countries. But killing of a magnificent beast is criminal according to animals lovers.
5 responses

• Hibbing, Minnesota
6 Aug 15
I can see both sides of the coin here, what this man did in my personal opinion is horrible and most likely he should face some kind of punishment for what he has done. On the other hand, he was in a foreign country where maybe he doesn't know the law, granted ignorance doesn't make one above the law. However he did pay fifty thousand dollars for what he believed was a legal hunt and hired two local guides whom he put faith into that they wouldn't lead him astray. I personally feel that any punishment that he faces his guides should also face as they surely should have known the law. With that said, as a hunter and animal lover, I see no reason anyone should be hunting lions or other endangered animals for any reason other then in the case of a known man killer or maybe due to overpopulation issues in a specific area when the ability to transplant those animals elsewhere doesn't exist.

• United States
5 Aug 15
My response is that we need to hand Dr. Palmer over to Zimbabwe for them to prosecute him. His story that he didn't know what his guides were doing reeks of BS, and even if he didn't - he must've seen the GPS device on the lion (which they attempted to destroy after killing Cecil). He still skinned and beheaded the lion - instead of contacting authorities. He needs to face the consequences for what he has done. USA and Zimbabwe have mutual extradition treaties...he's going to be headed on a nice 'vacation'.

• France
5 Aug 15
I am not a hunter, but I have nothing against hunters. My grandfather was during years the president of a hunting society, and hunting was all his life, but he was hating two kind of hunters : poachers and hunters killing protected species. He could have negotiated an out-of-court settlement with them, but he never did, and always sent them to a court. For what I read, this guy has already killed a protected bear, and now he has lured out of a park where it was in security a lion to kill him... He deserves to be sent to a court for this. I hope he will not be anymore allowed to hunt until the rest of his life : it is the harshest sentence that you can impose to a hunter.

•
5 Aug 15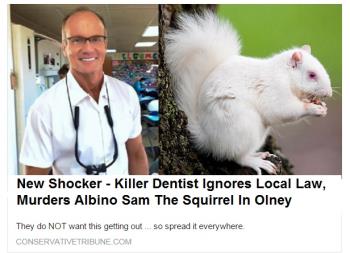 I think since most people from Zimbabwe don't have a clue who Cecil is that it must really not be that big of a deal and people need to get over it. They should devote all that energy to people instead of a lion.

• Toronto, Ontario
5 Aug 15
I do think some people are blowing this out of proportion. But on another he should be punished for the act he did. Most people dont go hunting down animals on their free time especially not a lion. For example here you need a licence to fish, hunt deer or so forth if not you are fined.