Charlotte Carries the Flair Family-Tradition in World Wrestling Entertainment (WWE) ... Wooo!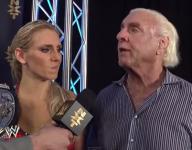 Oklahoma City, Oklahoma
August 8, 2015 8:46am CST
On WWE SMACKDOWN, I saw Charlotte---daughter of Ric Flair. Though her tag-team lost the match (they were outnumbered), she secured a position in my 'wrestling-fan heart' (I might say my 'human heart' but ... there's kentuckyfriedwrestling.com/theword2/i-wooooo-ric-flairs-daughter-ashley-walks-that-aisle/ a reason why she doesn't go by "Charlotte Flair" in the ring!) (3 w's and a dot)wwe.com/superstars/divas/charlotte en.wikipedia.org/wiki/WWE
3 responses

• United States
9 Aug 15
It seems likes you mixed WWWF with WWE; its just world, not worldwide I'm not as impressed by Charlotte as a lot of other fans seem to be. Don't get me wrong, she has talent (more than her father IMO) but she kind of annoys me a little.

• Oklahoma City, Oklahoma
9 Aug 15
Thanks, I fixed the acronymage

(even though it SHOULD be 'Worldwide'; the way it is now sounds like they're 'trying to pin-down the WORLD'

). And like I said, she DID lose the match. Sure, I could say it was because her opponent's team cheated and then outnumbered her team (and cheated again, though the final take-down was valid); but really the 'legacy' was pretty-much the ONLY thing that attracted me (besides the fact I'm a sucker for blondes), and I thought her opponent was WAY MORE-ATTRACTIVE.

• United States
10 Aug 15
@mythociate
Naomi is one of my ALL TIME favorites right now in the Divas division, she is the most athletic diva they have and yet she hasn't been champion yet. Sasha is cool, but I like Tamina better just because they have under appreciated her as well.

• Calgary, Alberta
23 Nov 15
She is just retained against Paige. Its weird to see her as a Face though because she is a good heel in NXT. Back in NXT Paige is the hero and Charlotte was the Bully.