Rescue dogs

Etowah, Tennessee
August 8, 2015 8:58am CST
We have a new addition to our family! His name is Hannibal, as in Lector, because he tried to eat anyone who tried to touch him at the shelter. I was leary of him at first, but after 24 hours, he was lying beside me, following me around the house and all around new best friend. Many people passed him by, he was almost euthanized. My little foster turned into a foster failure and we couldn't be happier! Have you adopted from a shelter? Fostered? Transported? Share your stories with me! #adoptdontshop
8 responses

• India
9 Aug 15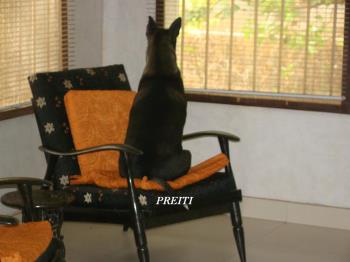 We do not have anything called 'shelter' in the vicinity where we live. But this little girl walked into our life - a stray. After having several in our life earlier we wanted a respite but just could not resist this one. She walks straight in when our gate was open. Today she is 8 years plus and a great companion and a good watch dog, having her own personality. I am attaching her picture here

• United States
12 Aug 15
I know somebody that acquired a cat like that. She was at the store getting groceries and left her door open while she was loading the groceries into the car. When she got home, she noticed that she had brought back more than groceries ... a cat had snuck into the car when she wasn't looking.

It was obviously a stray (or not very well cared for if it wasn't), so after a thorough Vet check she decided to keep it, which was probably for the best, because that cat followed her everywhere and I doubt she could have gotten rid of it if she tried.



• Regina, Saskatchewan
8 Aug 15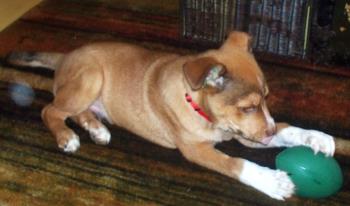 Rescue dogs NEVER forget their deliverance. You have a loyal friend for life! After my Spunky passed away my hubs insisted on getting me another dog. We rescued him from the city shelter and even though he is so different from Spunky in looks and temperment, I wouldn't trade him for the world. He keeps me hopping that's for sure, but he is so smart and has finally learned to get along with the birds in the backyard....I am so proud! lol His name is Bogie, as in Humphrey Bogart, although some would say his name refers to a different kind of bogie, nudge, nudge, wink, wink.


• India
9 Aug 15
I too would not trade Preiti for anything in the world. She is such a companion. We have had many dogs before and we had a craze for the pedigree. But when I saw so many strays on the road and was encouraging others to get them, it happened to me unplanned. A hug is on the way for your Bogie


• Etowah, Tennessee
9 Aug 15
I remember Spunky! And I remember you getting Bogie, and where that name cabs from. ;-) We have, at this moment, Hannibal, my foster failure, Mickey a foster failure, for my daughter, Tango, a transport/overnighter that instantly bonded with my daughter. Blue, a chi my daughter saved from an abusive owner she visited (she saw him kick the dog and took the pup home with hr! Made me proud!) Sassy, my DIL's dog I'm fostering until she can get her back. Sadie, a dog I fostered 2 years ago but returned when the owner couldn't take care of her financially; she's looking for a home still. I just found homes for 4 emancipated pups I save from being killed by a irresponsible owner who owns dogs but can't get them fixed, our remember to feed them daily, a mom n pup who were 2of 5 that were dropped inside a ladies fence, and one chi that a man found n couldn't afford to feed and doubt wasn't to take back to his owner for the fifth time (we found the others who had Makai taken this dog back home numerous times). I also have a mentally challenged cat with a slight limp that my daughter found injured on the road, and three kittens I got at 3 weeks old from a litter of 5 that needed bottle fed. I can't bare to part with them after nursing them, lol.

• Regina, Saskatchewan
10 Aug 15
@tammyr
Wowza! All that and a wedding too! You make me tired just reading this! LOL Good for you Tammy. I wish more people were so inclined....


• United States
12 Aug 15
We have taken in and rescued many dogs before. Recently, though, we had a bad experience when we adopted from a shelter. They did not tell us the history of the dog, his bad habits or that he had been returned several times but rather made it seem like everything was just fine. Having had experience with dogs, we knew that he would have some issues, but we were not prepared for him. He mouthed aggressively, which was an issue, especially since we have young children in the house ... and the shelter knew this because we had our daughter with us when we got him not to mention that we stressed he would be a family dog. He also had some other bad habits like destroying floors and furniture, etc. We tried everything that had worked before on the other dogs (we even talked with trainers to see if they had other suggestions we had not tried) but nothing worked. When we tried to return him to the shelter, they would not take him back ... they said he had been returned too many times and would have to be "put down" and they were a "no kill" shelter. We didn't want him "put down" anyway, so after some searching and talking with a lot of people we managed to find him a good home - there were no kids in the house and the couple had experience working with dogs that were deemed too aggressive/untrainable to be placed in a home. I am very glad to hear that you had a good experience, and I hope that you continue to enjoy each other for many more years.


• India
13 Aug 15
Some dogs just donot like children as they would have had bad experiences themselves. Children could be nasty too! I am happy that dog is now taken care of

• United States
13 Aug 15
@allknowing
I completely agree that it is best to fit the dog with the home and lifestyle. There are high-energy dogs that need a lot of time and attention, so an active household is best. There are dogs that do not like children or have special needs, etc., and they have personalities as unique as we do, so it is important to get the right "fit", which is why I was so angry that the shelter knew his issues and let us adopt him anyway, especially when they knew that we had children and he was to be a family dog. We were also told that we could bring him back if it didn't work out (not that we had any intention of doing so when we adopted him ... it was supposed to be his "forever home"), but when we let them know our concerns about the aggressive mouthing with children in the house, they said we could not return him.

• United States
9 Aug 15
I had never gotten the chance to adopt pets from a shelter.But your dog has a so so so fabulous name.Hannibal Lector?Can it even be cutier?Well,it seems like Hannibal really becomes a part of your family.Awwwww,congrats.

• Etowah, Tennessee
9 Aug 15
Hr was so scared at the shelter, and when he first got here. We couldn't bear the thought of him going through that again at the rescue and a third time with whomever adopted him. Plus he would repeatedly if his adopter wasn't a forever home. With us, he's family n in his forever home. Ps...he doesn't try to eat anyone here, but I decided to keep the name cause he does act mean when strangers come aground, and hearing his name might deter strangers from coming near him, lol.

• United States
8 Aug 15
We've never adopted, fostered or transported from the shelter. Most of our pets were given to us from a friend or neighbors litter, some we took in off the street. Our newest family member would have ended up a shelter pet. We got her before that could happen. Congrats on your new addition :)

• United States
8 Aug 15
Congrats! I've never fostered or transported any animals, but I have adopted from the shelter before. As it is, my mom's cat that I have taken it was adopted from the shelter years ago.


• United States
23 Dec 15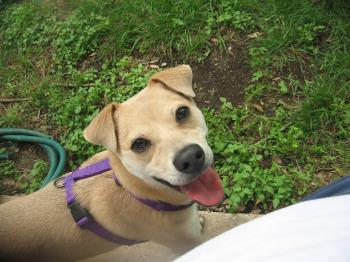 In February of 2002, my roomie decided she wanted to adopt another dog. The dog she had moved in with had some how gotten out of the yard during a thunderstorm and, despite weeks of looking for her, she wasn't found. On Petfinder she found a listing for a "Rat Terrier" listed as "young" (under a year) who had been picked up as a stray in Llano. We drove to Marble Falls to adopt her, her name was Zoe. Well, a rat terrier should've only been about 15-25 pounds, Zoe was closer to 35 to 40, she was no rat terrier. Apparently several people had come to see her and rejected her because of her size or her improperly healed front leg that had been broken while she was a stray and had healed bent. The broken leg wasn't a problem and, really, neither was the size. In fact, she was too big to squeeze out the fence and, because of the bad leg, couldn't dig under it like the dog we had when I had moved in used to. Then, in April of 2013 the city shelter was "giving away" dogs that had been in the system for too long. We didn't even bother go out to the big dog pens because I knew I didn't want a big dog. There were several I liked, but they weren't among the free ones, so I kept looking. And there was this happy looking brown fellow. He is about the same size as Zoe and they called his breed a Feist. He is now 8 years old, and so active you would think he was much younger. He was named Bowie, but we changed it to Boe, a Doctor Who reference.

•
20 Aug 15
What a lovely story - good on you for saving him. All of my animals are rescues - my puppy from a woman who thought she was 'ugly', my house rabbit from a tiny cage all on his own, and my 5 guinea pigs from far and wide rescued from bad situations. Rescue, dont buy :-)