What's a good price for you to pay for jeans?

United States
August 11, 2015 9:49pm CST
I am frugal and love it. I was in Yonkers the other day and found a new store. I went in and there was a stack of riders by lee jeans for $6.88 I just had to buy a pair of those jeans. I got them home and they fit perfect. My friend loved them as well. I had to go back to that area to do my license yesterday. Since,she loved them I picked up 4 pairs in case they fit. Planning to just return them if not . We both got dark blue and light blue and hers fit her very nice. She will pay me for them on pay day. Her husband does all the shopping so she was glad I could get them for her. I normally would not mind paying up to $20 for a pair of jeans that I love. But,$6.88 I wanted four pairs before they were all gone. I only found three so far. I plan to go back next month for more.
3 responses

• United States
12 Aug 15
Ahhh, thrift stores and rummage sales.... my favorite ways to shop! :)

• United States
12 Aug 15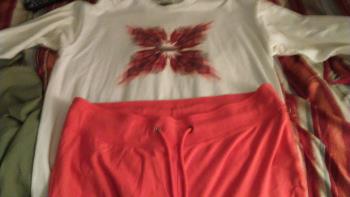 I went to the salvation army last week. I went for jeans but found these sweat pants and this nike shirt on sale for $2.50 each. both designer names for a fraction of the price. I go in sept with about $60 and leave with two heavy bags. I only buy the sale items for the day.

• United States
12 Aug 15
@MaddiOashi
my family is planning a shoping day at the good will in a few months. I will be driving then and it will be a big day.

• United States
12 Aug 15
I love to go to thrift stores like the Good Will Store and we have a place called Plato's Closet here and I found my husband a pair of Levi's for $10.00! Woo Hoo! They were so hard o find I also found me a pair of jeans there for $8 They have gently used clothing there and you can buy and or sale your items as well too. I love that store! Not sure what area you are in but maybe you can see if you have one in your area? Also Garage and Yard Sales too.


• United States
12 Aug 15
I live too far from the good will. But,now that I will have a car I sure plan to find one. I could do a lot of damage in that store. I shopped there all the time when I lived in Miami.


• United States
12 Aug 15
I can understand that as well. I love leggings and plan to buy a few to go under my jeans.