I was going to try to watch the meteor shower last night but

United States
August 13, 2015 7:25am CST
I fell asleep and did not see this spectacular meteor shower last night but I understand it can also be seen tonight 8/13/15. Conditions are supposed to be really good for skygazers to see this. There is supposed to be another meteor shower in December. Astronomers strongly recommend watching far from cities for the best view. Did anyone see this last night?
9 responses

• United States
13 Aug 15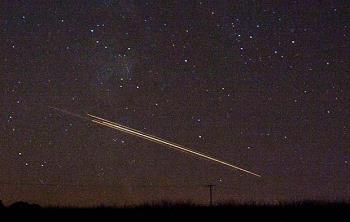 I certainly did not Marcy, I was out like a light after taking a shower and brushing teeth ahaha I am not surprised you did not catch it either after your busy day yesterday.

• San Marcos, Texas
13 Aug 15
@TiarasOcean
View..thanks for the pic since i was indisposed !!

• Svalbard And Jan Mayen
13 Aug 15
There was a thunderstorm here last night. I saw many meteors last week-end (we had a festival called "the night of the stars"). It is not too late. The maximum was yesterday, but you can go outdoors tonight or tomorrow, and you will see some meteors too.

• Manchester, England
21 Feb 16
I was totally unaware of the event and obviously it is a little late for me to watch now. The one thing that I have never understood about meteors is why they always land in craters. There must be a logical explanation for this, but it completely eludes me.

• Thailand
13 Aug 15
too bad. .argh! here we can't see them because it is rainy season here so the sky was cloudy.

• San Marcos, Texas
13 Aug 15
I so wanted to but had 2 grandchildren staying the night and to get them to sleep was getting into my watching anything time..hahah


• United States
14 Aug 15
I did not watch it either. I did see the beautiful moon a few nights ago though. It was spectacular and looked so close.

•
13 Aug 15
No I didn't see it, it was cloudy here in Plymouth, UK then it rained later.

• Regina, Saskatchewan
13 Aug 15
I did! I did! The sky here was SO clear last night and the stars seemed so close. I wrapped myself up and sat out in the field and watched the sky for about an hour. It was magical! Some of the meteors seemed to be coming right at me, while others just streaked across the sky like bullets! I wouldn't have missed it for the world!