Shadow web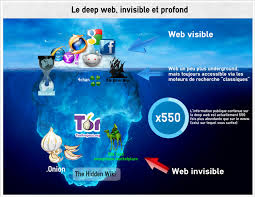 Bangalore, India
9 responses

• United States
15 Aug 15
Um yeah, you do not want to know. I've been there and just read a few things. I saw a secret networking site and thought to join it, but thought better of it because it's probably where all the pedos and serial killers hang out. I have read they have disturbing images and stuff, which luckily I never saw, but they warn to be careful of what sites you visit there because many use fake names to make it seem like something different than what it actually is, for example Flowers.com could really be somebody selling illegal weapons. You never know. If you do visit there, just stick to the places you are 100% sure is safe. As for the assumption many have that only criminals access the deep web, that is false. It is used by the military, by law enforcement, by human rights activists, IT professionals, etc.

Home » About » Who Uses Tor Tor was originally designed, implemented, and deployed as a third-generation onion routing project of the Naval Research Laboratory. It was originally developed with the U.S. Navy in mind, for the primary purpose of protecting g

• Bangalore, India
18 Aug 15
Thanks for your time shasta.. One of my friend visited it recently and he told me that I will need a shadow web browser to visit it... He also told me that it is available at only one place in the deep web.. I would really appreciate it if anyone could give me the link to download the shadow web browser... NOTE: Shadow websites have got the extension of sh.web so it is not possible to visit them through tor browser..

• United States
18 Aug 15
@Thebesthacker
According to this article you can use TOR. I don't know about any other browser for deep web stuff than them, but you can check his links and see if there is any more info.

This page may be out of date. Save your draft before refreshing this page.Submit any pending changes before refreshing this page. Hide this message.QuoraSign In Share QuestionTwitterFacebookGoogle+Question Topics Shadows Web Design Web DevelopmentLoading..


• United States
15 Aug 15
Well, if you really are as your name suggests "the best hacker", then you should have no problem finding it and going there.



• United States
15 Aug 15
@kiran8
Not only that, but some of us have problems navigating this site, so could you imagine us trying to find any place there ... it would be like when you go to the worst part of town and get lost but don't want to stop your car much less get out and ask for directions.





• Ashdod, Israel
15 Aug 15
@purplealabaster
probably a good thing no one here really knows too much about it. I have heard of it, you can literally find anything there. and not in a good way,


• Mohali, India
16 Aug 15
people feel fear to that places

• Bangalore, India
18 Aug 15
Hmm yup i know... That is why I am trying to find out ways to visit it

• Oxford, England
15 Aug 15
I really do not think you should go there. I always understood it to refer to some pretty immoral things.


• Bangalore, India
18 Aug 15
Hehe ok.. Then I would recommend you not to go there :)

• France
18 Aug 15
You are perhaps not the best hacker if you do not know what it is and how to visit it

. I wrote a discussion 2 years ago about the dark web. It was intended to be funny. I give you the link.

Last Sunday, I installed a new version of Tor in my Linux box. For those who don't know what it is, it is a software to surf anonymously on the Net. The Tor...

• Shingle Springs, California
15 Aug 15
If you find it, please come back and let us know.

• Toccoa, Georgia
15 Aug 15
I have never heard of it until you mentioned it here, but from the answers below, I would not go there.