I am in the midst of doing some Craft Projects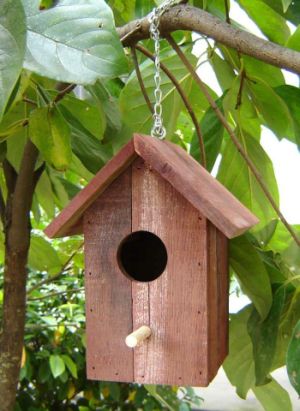 United States
August 19, 2015 6:33pm CST
Right now I am into Wind Chimes for my front porch-I check at the thrift stores and buy used ones and refinish them. I am also into small bird houses I buy new and used as i have a tree out front and on the side of the house and want to put bird houses in them.
7 responses

• United States
20 Aug 15
Wind chimes I cannot stand and can live without them. My evil ex used to have wind chimes outside the kitchen window. When she left, I took them off and threw them away. I could not stand that noise. Bird houses I don't mind. They are nice for the birds.

• Warren, Michigan
20 Aug 15
I am the complete opposite! I adore wind chimes, but dread bird houses. They tend to attract pigeons and I hate that.


• United States
19 Aug 15
What a nice craft Marcy. Wish I had the patience to do any of that. Bet you find some nice ones where you are too. Is that one of them? I absolutely adore chimes too. I want to get some for here, but cant right now.

• United States
20 Aug 15
Ocean, It takes me a long time because of my hands, I do some and then have to stop. Yes I have one just like the one shown. I do not buy any chimes that are loud as they drive me crazy. Most I buy at a thrift store in the next town over from where I live.

• United States
20 Aug 15
@Marcyaz
I want these really cool chimes Marcy. They are huge and would sound like bellowing over the mountains in Tibet lolz

I am not sure if the neighbors would love them tho here.


• United States
20 Aug 15
@TiarasOceanView
My sister in-law had some really big and bellowing ones on her porch back in Oklahoma and drove everyone crazy, even her. She finally took them down after a lot of complaints from her neighbors, you might want to rethink the ones you were wanting.


• San Marcos, Texas
20 Aug 15
I have many wind chimes and bird houses..love them and so do all the birds who visit!!

•
19 Aug 15
Wind chimes and bird nest, interesting projects.

• United States
20 Aug 15
Kevin, I also have some other projects for the future once these are completed. Last Christmas I found some wreaths at a thrift store that were just plain and I bought some small Christmas trinkets to put in the wreath and also some ribbon, the wreaths came out really nice.

•
20 Aug 15

• United States
20 Aug 15
You may want to place some bird feeders as well. I have a cute bird house or two. Must not forget to move them.

• Eugene, Oregon
20 Aug 15
Windchimes are beautiful. I knit and crochet, and I am not the best, but I get by, and I have made3 baby layettes for new mothers, and they arevery appreciative/ I love working with yarn,but not in the summer, as it is just to itchy, so I will wait until fall,when it is cooler, so I don't get itchy.


• Philippines
20 Aug 15
Wow, you made that ? You are good . It's a good decor actually at the garden .


• Philippines
20 Aug 15
Its beautiful. I love chimes