"Ant-Man" ---funniest movie of the year?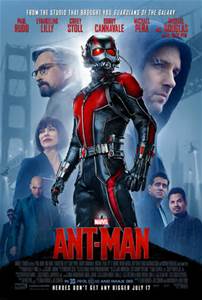 Ft. Lauderdale, Florida
August 24, 2015 4:09pm CST
Hesitating to make 2 statements, feeling they will come back to bite me in the butt, I still will: 1) "Ant-Man" is the first Marvel comics to screen that I really enjoyed and 2) "Ant-Man" is a very funny movie! It is funny in its ridiculousness, in its insensible, illogical, crazy screenplay and the incredible special effects has too many to mention moments. This may all be a reaction to the deadly boring film I saw Friday but whatever the reason I was entertained and what more do you want from a Sunday afternoon film? Paul Rudd, as Ant-Man, is an ex-con who doesn't want to go back to jail but needs to get back support money for his child, Abby Ryder Fortson, to his ex-wife Judy Greer who has a new boyfriend, Bobby Cannavale. Meanwhile Dr. Hank Pym, played by Michael Douglas looking great--special effects?--has discovered the shrinkage formula and, following Rudd for a number of years, elects him to be the Ant-man. His daughter, Evangeline Lilly, works for Corey Stoll, the protégé of the Doctor and pushing him out of the business but doesn't have the formula and is working on his own. You can almost see Stoll, as the villain, twirling his non-existent mustache. Oh yes can't forget the trio of Michael Pena, Tip Harris and Wood Harris along with David Dastmalchian as former prison friends of Rudd. Another clever special effect involves Pena and lip movements. There are a few sweet moments involving the fathers and daughters and one of how Lilly's mother died, slowing the laughter pace, but only the latter is a time waster. Director Peyton Reed, with the screenplay by Edgar Wright, Joe Cornish, Adam McKay and Paul Rudd, who obviously added to the humor of the film, takes the audience on a eye pleasing and mind bending journey. Hollywood has tackled the theme of humans shrinking before but it hasn't been until "Ant-Man" and CGI that it has been as funny and entertaining! (Movie photo supplied by manager of the Regal Cyprus Creek theatre from the film's press kit)
3 responses


• Ft. Lauderdale, Florida
26 Sep 15
Iron Man wasn't/isn't as funny though I enjoyed it!

• United States
26 Sep 15
@GreatMartin
I would figure that. I will catch Ant-man at some point. I always go on Netflix to see if there is anything good to watch. Mainly movies. I have seen some good ones.

• Philippines
25 Aug 15
thanks for sharing this review. I haven't seen the movie yet. At least I have an idea what type of movie this is. I will check it online I guess.

• Ft. Lauderdale, Florida
25 Aug 15
The main thing I liked about it was that it surprised me with all the humor!