Were Old Cartoons Used to Communicate Coded Messages?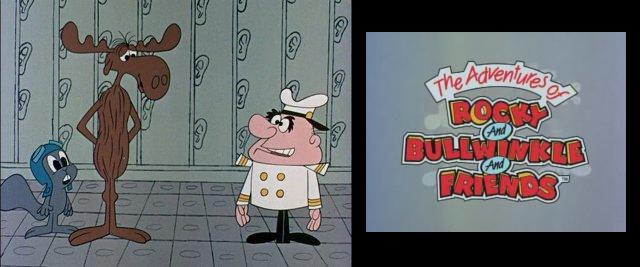 Austin, Texas
September 5, 2015 11:08am CST
Was always a regular viewer of
The Adventures of Rocky and Bullwinkle
. Watching it as a little kid it was just fun. But then … I became an adult. Worse than that. An adult who got a job working for the government. Revisited those cartoons thanks to the wonders of stations on cable TV that aired old cartoons. Suddenly the episodes were no longer fun. They were serious. Began to suspect that the script was actually "secret coded messages". Yeah! That's it! Read between lines and you can learn all the plots of the government!

Silly huh? It's just entertainment.
Or is it?

(Image credit: Wikipedia) (flp)

About The Show  · Show History  · Characters  · Voice Actors  · Secrets  · Funny Quotes Episode Lists  · Rocky & Bullwinkle  · Mr. Know-It-All  · Bullwinkle's Corner  · Fractured Fairytales  · Peabody's History  · Dudley Do-Right Multimedia  · Video Clips
3 responses

• United States
5 Sep 15
The definitely were and still are. The Illuminati has childrens' cartoons full of codes and signs. They got away with it back in the day, now it's worse than ever.

The shows play its part by exposing young children to the symbolism, which normalizes it and ultimately accomplishes what the occult elite has been doing for...

• United States
5 Sep 15
Check out the videos about it on youtube sometime. Disney is one of the worst.

• Austin, Texas
5 Sep 15
@PrarieStyle
- Hidden communications via the Illuminati? Don't get me started on a discussion of secret societies. There's the government. Then there's secret societies.

• United States
6 Sep 15
@cmoneyspinner
Government, illuminiti, New World Order, United Nations it's all the same thing now. satan...


• Philippines
12 Sep 16
What sorts of messages were sent? Is this similar to subliminal messages?

• Austin, Texas
13 Sep 16
Oh no! Not like subliminal messaging at all. Probably code talk used by the military. Don't you think the military could easily mask secret messages using cartoons? The idea is not that far-fetched. My crazy theory was only reinforced when I was riding a public bus one day and saw a guy dressed in his army uniform coming out of a store that specializes in comic books. I'm like:
That's it! Cartoons and comic books! Yep. Bet that's how they do it!!"




• Philippines
13 Sep 16
@cmoneyspinner
makes sense. Influence them while they are still young and impressionable!

• China
6 Sep 15
Oh ,is it true or they are in a state of extreme nervousness ?

• Austin, Texas
7 Sep 15
Have no idea. I am totally clueless. But the idea came to me that governments have to sometimes have a method of communicating in secret and why not use cartoon scripts? The average citizen would probably never suspect. Only the code talkers know what they're talking about with each other.