Bird song

September 6, 2015 10:18pm CST
As I sit at my window this morning I can hear the songs of some tiny birds. Its so beautiful, I can listen to it all day. They are the beautiful sun birds rejoicing after the heavy down pour we have been having since last evening. It has been so hot and humid and I haven't seen too many birds around in gthe last two days, today they seem to have come out to have a party.

What kind of birds do you hear every morning? Which is your favorite song bird ?
4 responses

• India
7 Sep 15

My garden is designed to attract birds and the bird bath is where we see them. Several species visit our garden every single day.

•
7 Sep 15
@allknowing
which is your favorite song bird though? I wish I could see the picture more clearly.. it doesn't expand.

• India
8 Sep 15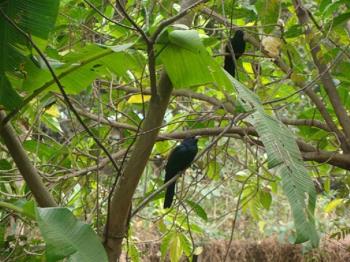 @sofssu
Cuckoos are my favourite. Strange that the image does not expand. I will post another and this time of the cuckoos. I have many video clips too

•
8 Sep 15
@allknowing
Thanks I can see them well now.. I can see you really love the cuckoos song. They start pretty early in the morning don't they?

• Philippines
7 Sep 15
Usually the bird at the vacant lot beside our house where there are many trees chirp at 4 - 5 a.m. They seem to be so happy chirping . Though i can't see them because they're up in the very high branches . I feel so happy just listening to them .


• Philippines
7 Sep 15
@sofssu
Yes , you can feel indeed the freshness of the surroundings . Just like in a forest .



• United States
7 Sep 15
Ok, how did I miss this one?? I love the sound of birds chirping especially early in the morning, while I am enjoying my coffee. We mainly have sparrows here.

•
7 Sep 15
@TexanTornado
The one you and your son painted? I love listening to those sounds..they are so calming in this chaotic world. Have you had any humming birds yet?

• United States
7 Sep 15
@sofssu
Yes, me and my son painted a bird house, but we haven't put it out yet. Oh I agree, it's almost like them relaying a message to you that it's a beautiful day to be out. Yes, we have had a couple. I think next spring, I will work to build a 'hummingbird' garden in the back yard so I can sit and there and really enjoy them. Hopefully it works.

•
7 Sep 15
@TexanTornado
couldI help you.. what about our gardening deal? have you forgotten it?


• Sri Lanka
7 Sep 15
Do you really think that birds are singing ? But I Idon't. That is because according to most by biology books human beings have to the very different feature that is talking. Of course singing is a developed part of talking.I just think that birds are not talking or singing but they are only calling to their fellow birds. Don't you think so? I like to hear from you soon

• Sri Lanka
7 Sep 15
@sofssu
I enjoy too.hm have you read the poem minor bird.thats very important in this case

•
7 Sep 15
@kevinakash
I have .. I guess its by Robert frost.. wanting to chase away a song bird.. I cannot imagine why he would want to chase him away though.. In fact I have gone one step further to plant those flowers that attract sun birds and butterflies to my home .