Do you eat fast food too often?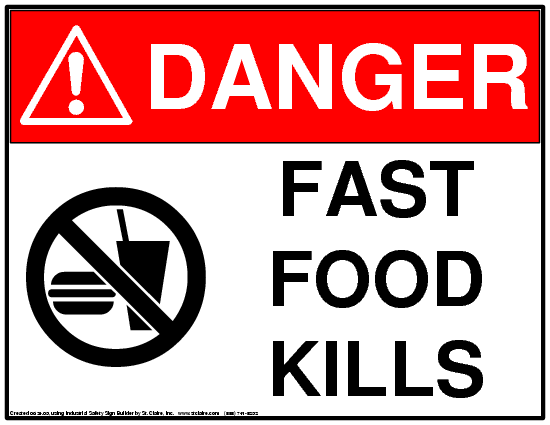 Sri Lanka
September 9, 2015 2:27am CST
We all eat fast food right? I think it's essential because of today's busy life styles. We don't have much time to eat nutritiously balance diet and we all agree to that. It's okay to eat fast food if you don't have much time but if you eat fast food too often much might have to face dangerous consequences. For starters, what is fast food? it refers to the food that can served quickly. Fast food contains large number of carbohydrates, sugar and fats and mainly there Sodium. If you know people who always eat fast food? If yes, most likely they all have a fat body. That's because fast food contains high number of calories. Those calories collected inside the body and eventually they turn in to fat. I'm always trying to eat balance diet if there isn't a time, I eat fast food to but I do not get addicted to it. Some people think that they don't eat fast food too much but they do eat but most people unaware of it. So always attention to your daily diets. Fast food offer a tiny or no nutritional value. Here are some effects of fast food on the body. 1. A meal full of carbohydrates indicates blood sugar to expect to swiftly. 2. A rise in blood sugar means more insulin is needed to process it. When that happens too often, it can interfere with your body's ability to use insulin effectively. 3. Meal full of carbohydrate supply, detrimental extra fat, as well as all kinds of sugar allow it to be simple to idea the weighing scales in the drastically wrong direction. Overweight as well as obesity are usually of a many illnesses. 4. Excess salt and weight gain can make your blood pressure rise. 5. Fast food could improve the poor cholesterol (LDL) while bringing down the good (HDL), a two times whammy. 6. Salt makes you retain water and can be blamed for some of that bloating and puffiness. 7. Higher cholesterol, high our blood stress, and also morbid obesity help to make the cardiovascular system function trickier and are on the list of primary factors that cause heart disease and also stroke. These are some of fast food effects and there are many. So if you want to live a healthy long life please minimize the using fast food and always try to take a balance diet. P.S. : If you have children please DO NOT let them to eat fast food. It's a real bad thing! NEVER I mean NEVER do that because a study found out that, Lack of iron could slow development of processes in brain could be that diets high in fat and sugar have negative impact on learning. 52% of children surveyed had eaten fast food up to three times a week.
2 responses


• Sri Lanka
9 Sep 15
You are from America right? I have a feeling that most americans usually eat fast food. Is it ture?? ( I thik I have this feeling because when I watch a hollywood movie, I always see people eating hambugers, pizza stuff)


• Sri Lanka
9 Sep 15
Yeah yeah. It's so hard to resist them because they are so yummy!

• Dallas, Texas
9 Sep 15