Watching Wild on Nat Geo yesterday....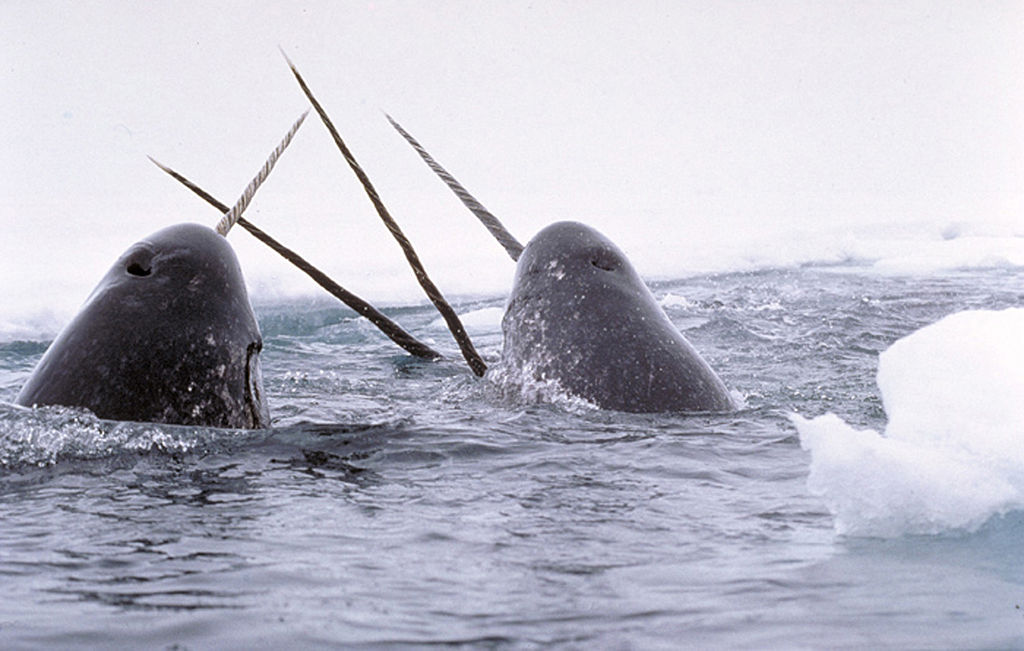 Boise, Idaho
September 13, 2015 3:04pm CST
and there were a series of episodes about marine life in Australia. There were some really odd ones like the Ras fish that looks like some prehistoric and like it had another fish on top of it with a big hump on it as well, Then there was the Leafy Sea Dragon that was beautiful and would swim in among the sea weed as it's camouflage. The Horse Shoe Crab sure is a homely cuss until that prehistoric shell is taken off. The stone fish is sure a good camouflage. It looks just like a stone and then rustles down in the sand and you wouldn't know it was a fish. But, the one that really struck me was the narwhal which is called the Unicorn of the Artic Sea. Its a whate of about medium size that has this large tusk that is actually a canine tooth. It is actually an elongated upper left canine and has soft enamel on the outside with a lot of nerve endings. This is used as a sensor to detect water pressure, temperature and salinity. It might even detect barometric pressure when it's above the water's surface. I found this fascinating. Had never heard of it before.
9 responses

• Alicante, Spain
15 Sep 15
I love watching these sort of programmes, especially the ones that explore areas where there is very little human activity....

• Boise, Idaho
15 Sep 15
I find them really interesting too. Love having Nat Geo to watch.

• Alicante, Spain
15 Sep 15
@celticeagle
I would love to have nat geo to watch...but we have to download that from the internet... and history channel and discovery.... but we can and do...so that'snot a problem.... lol's

• Delhi, India
16 Sep 15
I did not know about unicorn fish till I read your post. Its antenna looks awesome and it is interesting to know that these antenna works as sensor and help unicorn fish to detect nature of water. Nature is really great, if we explore we get to know about many animals, which are rare to find or seen in general.

• Boise, Idaho
16 Sep 15
A 'unicorn' fish that is a whale. Yeah, it is interesting how many animals are out there that I don't even know exist until I see something life this. I do love the Nat Geo channel. So informative.

•
14 Sep 15
Good to know these exists

Never heard of Unicorn in the sea


• Boise, Idaho
15 Sep 15
I thought that was interesting too. Always liked unicorns.


• Avenel, New Jersey
14 Sep 15
omg! i thought that whale was a mythical figure... wow. thats really cool!


• Boise, Idaho
14 Sep 15
Yes, me too but there were a few that I hadn't heard of and had no idea even exists. They is one on the same channel today about flowers.

• San Marcos, Texas
13 Sep 15
I had heard of that name Narwhal but never knew anything about it and what it can do..very interesting..thanks for all that info

• Boise, Idaho
13 Sep 15
Sure I love to share things I learn about. Found it fascinating.

• United States
13 Sep 15
It is amazing what you can see and learn about on those types of programs. I think and ocean show would be awesome to watch about now.

• Boise, Idaho
13 Sep 15
You could probably find some of them on Netflix or what ever movie site you use.

• United States
13 Sep 15
I love to watch and learn too Celtic. Those nature shows are incredible. I certainly wish they had more of them on. No I had never heard of the Unicorn of the Arctic Sea, but is sounds such a regal name indeed. It certainly looks a good tool for the creature in order to gage different elements that will help them survive better.

• Boise, Idaho
13 Sep 15
Yes, and to find out it is a tooth was very interesting. They have these on every week and then you can find marathons like I did. I always venture ahead to see what I will watch and I can schedule it in my DVR and check each day to see what I want to watch and what I will let the DVR tape for another time.


• Boise, Idaho
13 Sep 15
Probably. These were from a series called "Wild".