Why does a child 'divorce' his family? (Long)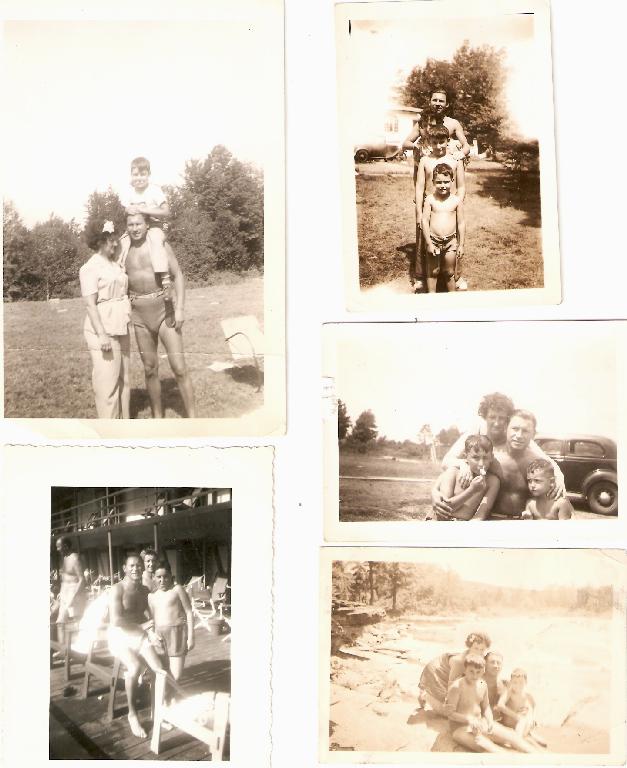 Ft. Lauderdale, Florida
September 16, 2015 8:38am CST
(OMG! That was 63 years ago.) At 17 I had enough--I knew I had to get out--I had spent my earlier teen years running away to movies, into books and going to theatre. Anything to escape reality and/or spend time with my family. My father was wealthy and believed that gifts made up for not showing love--if there was any. For many years I had worshiped this man only to find out he couldn't care for anyone--only his business--he was the one who instilled in me, "F--k them before they F--k you." What a way to grow up. On the other side was my mother who was only happy when she was unhappy. We owned 2 homes, my dad got a new car every year and yet every day threatened she us (my brother and I) that we would wind up in the poorhouse. My father was out of town 10 out of fourteen days--the 4 days he was in town were spent in arguments between him and my mother-- She-"Sure, you live the life of luxury with people waiting on you all the time and all the women." Okay, he was a very handsome man and somewhat of a 'babe magnet'. He--"You were born on the east side and you will never grow out of it." Okay, she only bought cheap, second hand stuff. The fights went on with accusations, slurs, put downs, etc. constantly. Did my mother molest me? I'm not sure but I have a nagging idea in the back of my head she did--she certainly said things to me a mother should never say to a son. I do know she was happy when I 'came out' at 13 saying something to the affect that now she didn't have to worry about a woman stealing me from her. These are two people who should have never married (at least to each other) in the first place (ah, but then I may have never been born!) and never should have stayed together 'for the sake of the children'. Maybe the stuff above doesn't mean much to you but for a teenager never wanting to go home--who would rather spend time cruising bars, bathrooms, etc. to find 'love'--a teenager stealing money from his parents to get attention--a teenager constantly being compared to his 5 year older brother who was 'smarter, athletic' while he only had a 'million dollar smile' certainly didn't help the already non-existent relationship between the brothers. To make a very long story short I walked out at 17, got a job, rented a small room, finished high school, paid my bills, went to a year of college before joining the Marines. Years later, after going through transactional analysis therapy, I tried to reconnect with my mother--she was a bitter, divorced, lonely woman (who's own son, my brother, wouldn't allow his children to see her because of her negativity and constant put down of his wife) living in an empty house, no friends--and within minutes was telling me how everyone turned against her, how ungrateful my brother and I were, how she sacrificed her marriage for us, and on and on. Two years later I tried to reconnect with my father--I had invited him to an awards ceremony where I was being honored--he showed up (it was on the way of a business trip he was taking) and 'showed' my guests that I would never be as good as he was. I did not see or speak to them ever again and when I had heard they had died it was sad--because my reaction was "So what?" I realize that they did the best they knew how to and had failings as all human beings have. This is the first time I have thought of them in 30 years and that is because a friend of mine is staying with his wife, 'because of the kids.' I wanted to scream at him the kids would be better off if they did separate or divorce--they know, they feel the negativity between their parents and don't need that feeling at their age. By the way if it wasn't for my sister-in-law keeping in touch with me I would know nothing about the success my brother has had raising 3 wonderful children, having a loving wife who taught him how to love and spoiling his grandchildren. I had tried to communicate with him but it was as if we were/are strangers--it has now been over 30+ plus years that we have talked or seen each other--I am sorry that we aren't closer but I do very much admire what he has accomplished with his life--and yes I told him that but it didn't mean a thing. I have no regrets of walking out at 17--the road I took, with all its ups and downs, has never been boring though once in awhile I wonder what would have happened if I had been loved as a child should be--but then how many of us come from The Cleaver's type of family? 1) Should parents stay together 'for the sake of the children'? 2) Should a child leave home if things are too bad? (Photo is of my father, mother, brother and me on a good day.)
4 responses

• Midland, Michigan
16 Sep 15
I struggled with this idea of should I stay for the sake of the kids. And although I am not going to share with you the details of why I was pondering leaving, I will say that leaving gave me the openness to be a better mom. I had an environment more conducive to teaching and guiding my kids. My kids have an example of how things should be.

• Ft. Lauderdale, Florida
18 Sep 15
I am not questioning you but kids feel things adults have no idea about--teenagers, thankfully, are too caught up in themselves to care about how/what adults are doing and/or do.


• United Kingdom
17 Sep 15
What a terrible childhood Martin, I don't blame you for escaping when you could. I've no personal experience of this sort of thing, but I should think that it is better for the parents to go their separate ways rather than subject their children to situations like yours.

• Ft. Lauderdale, Florida
18 Sep 15
That was only a small part of it but I still count it as one of the smart decisions I made in life!


• United Kingdom
17 Sep 15
I suppose that at that time, things would have been looked at differently. Divorce would have been considered a bad thing. So, perhaps, living it or being of a different age would make a person say something different from a younger person or someone who was looking in from the outside. Now, I would say that people shouldn't stay together for the sake of the children. If a relationship is not working out then work on it for the sake of the relationship but, if it's that bad a relationship that it can't be repaired, the children are better off away from it. I'm not sure about a child leaving home. For you, it kind of worked out but, I guess, it would have been difficult. Maybe if things really are too bad for the child then the child could try to find someone else who can help (although I realise that could be easier said than done) but, again, if things are that bad then it may be the best option.

• United States
16 Sep 15
I came out of the closet That my answer there Mr.Martin Things change with this happening.

• Ft. Lauderdale, Florida
18 Sep 15
I came out when I was 12--that had very little to do with it.