Today is Independence day in my home country of Mexico...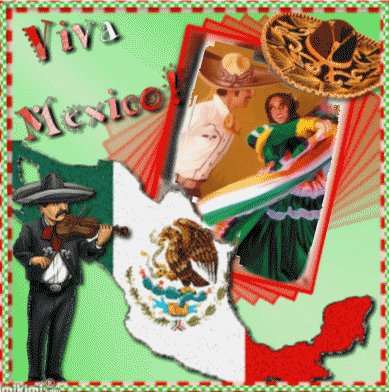 Thermal, California
September 16, 2015 8:39am CST
Celebrated like the 4th of July in the usa. Things are not so good in mexico these days. We have a president there who does nothing for the people. Even his own people cant wait till he leaves office. Im mexican but love the usa as were are free here..Yes it costs us. But we can do what our little hearts desire.Cheers to all my friends and family back home.. be safe ...
5 responses

• United States
16 Sep 15
Happy Mexico Day then Maria. Yes I see and read about Mexico and its political troubles. It is sad so much to offer, yet no one can help. Glad you could come here to have some freedoms.

• Thermal, California
16 Sep 15
I miss my home aqnd busineess there, But life was getting worse everyday there. Crime and things. At least here the police try and do arrest bad people there they dont. Have a great day here.

• United States
17 Sep 15
@kayshope
Yes there is good and bad here, but usually, people here have much to be thankful for. Thanks will do have a good day friend.

• Thermal, California
18 Sep 15
@TiarasOceanView
at least we have more good things in our lifes than bad ones. Take care :)

• Kollam, India
17 Sep 15
Happy Mexico Day to you and your country my dear friend. We can really understand the value of independence only when we come accross the strain taken for independence by our ancestors. Compared to the past life of the country the independence singly may have contributed positively a lot to the country. We must understand that and a national spirit should be imparted within us and the coming generation. Then gradually the country will be free from the political disturbances. New generation can contribute a lot. Help and guide them.

• Thermal, California
18 Sep 15
Lets hope all country will do the same. Seems many are bad these days. its very sad, Have a great day there :)

• Vancouver, Washington
16 Sep 15
yes its not something that one would be happy about if the president wasn't taking care of its people or conditions werent the way or better then was promised

• Thermal, California
18 Sep 15
yes, but its been like this for a long time in Mexico. been many years since weve had a good pres. there.

• Midland, Michigan
16 Sep 15
Seems like everywhere people are having problems with their leaders.

• Thermal, California
16 Sep 15
seems so.. But seems like last 10 presidents in mexico were all bad ones. Money talks there for sure. have a great mylot day. See you soon.


• Thermal, California
16 Sep 15
I think most are.. We give them to much power...