Why can't the girls keep the secrets a secret???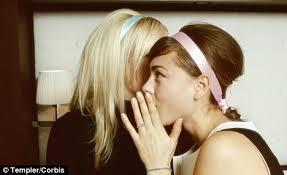 Bangalore, India
September 17, 2015 10:29am CST
I have seen and read that girls maximum threshold to hold a secret is 15 minutes.Why is it so?Is it god's gift or something else?? There are many mythological stories that supports this fact. Of course there will be some exceptions,in boys who have this whistle blower habit!! So your opinion on this fact and how long can you hold secrets!!
7 responses

• Aurangabad, India
17 Sep 15
The malaise may be common to both, boys as well as girls. With no end or recourse to gossiping, one may be assured to find his/her 'secrets', becoming common talk, among folks.

• United States
17 Sep 15
Yeah, what he said.


• Bangalore, India
18 Sep 15
@Novelangel
lol. But I have found gossip run around fast with women.As compared to men.So saying your secret to a woman is deadly!!

• Aurangabad, India
18 Sep 15
@Novelangel
I have a few male,'friends', to whom, if you open out a secret, see to it, that it becomes the topic of the street corner.I'd say, some males are worst gossipers, than females!



• Bangalore, India
18 Sep 15
@lady1993
you are right.To save from embarrassment hide the secret from everybody.Even in deadly situation don't let it your secret known to a girl,then you will be safe.It's not what I say,researchers found out it.



• Bangalore, India
19 Sep 15
@lady1993
ya that is the the hard part.We as humans need someone to tell our deepest secrets so that we sleep peacefully.Its in our god made DNA I guess!!



• United States
24 Sep 15
I know plenty of men I wouldn't trust a secret to. Personally, I like it when people tell me something they don't want me to tell anyone else. I feel as if they trust me and I don't want to betray their trust. Also, I enjoy knowing something that others don't know.

• Bangalore, India
25 Sep 15
Ya in men too , there are gossipers. But it is few as in comparison to the women. But those few men are too dangerous.

• United States
25 Sep 15
When our granddaughter was little, I told her not to tell her grandpa what his Christmas gift was. She indignantly told me that she was a "good not-teller." And she was! She never revealed secrets so I think females are better at that.

• Bangalore, India
25 Sep 15
So, this fact fact might not be a exact thing. But in general women are weak in keeping secrets than men. There will be exceptions in both sides. As your little girl kept a secret. The problem is basically among the grown ups I guess who want to gossip!!


• United States
25 Sep 15
@mkrnex
I guess it is different with grown-ups. When our grandson was little, he would tell everything! Even tell on himself if he did something wrong.


• Bangalore, India
25 Sep 15
@1creekgirl
I too would say eveything, I mean every small thing to my mother when I was a kid. Whereas my sister was a secret kind of girl. After I grew up ie now , it has changed. I keep secrets, don't tell much of the thing. While my sister tells almost everything! I don't know how it changed? I guess just happened!

• Portugal
2 Dec 15
i know and i agree with what you say even though im a girl. anyway im good in keeping secrets even though i prefer that people dont tell me their secrets. i just feel bad in hiding things. dont ask me why but i really dont like it. its a signal that the person trusts me and i wont let the person down but i dont like it


• Bangalore, India
4 Dec 15
One reason is you may feel the hypocrisy of the other people. That is dual facet they have. Another thing is you have lose your peace in trying to hide the secrets that you know.

• Portugal
4 Dec 15
@mkrnex
yes i just dont feel ok to know something that other people dont know. its not that i have to lie to them also but is complicated for me. i rather not know also so that way i wont feel bad about hiding it. but sure if someone tells me something and asks me not to tell i wont tell.

• Romania
25 Sep 15
haha indeed when someone shares a secret with you, you are tempted to tell it to someone else. I guess it's a matter of how much you respect the person who told you that secret in the first place

• Bangalore, India
25 Sep 15
@swissheart
I agree but sometimes some are fueled by their habit of whistle blowing that they them self will not know when they ratted out the secret



• Romania
25 Sep 15
@mkrnex
at the same time before doing such things we should consider the fact that we wouldn't want our own secrets to be shared with anybody else.

• United Kingdom
14 Dec 15
I can keep a secret forever. Mostly because I forget it as soon as It's told to me! Well, it depends what the secret is, and for whom I'm keeping it. If it's someone important to me then I'll keep the secret. If it's someone not that important, I'll probably still keep the secret because I'll have no reason to be talking about that person or imparting their secrets! My partner is great with secrets as he's also very forgetful! Saying that, he's likely to forget that something is a secret!