How can the Syrian refugee crisis be solved?

Leicester, England
September 17, 2015 5:51pm CST
Hundreds of thousands of desperate people are moving across western Europe looking for a new home, because life has become impossible for them in Syria. Hungary has erected a Trump-style fence on its borders to keep them out, although Germany has said that many of the refugees will be welcome - if only they can get there. The British government has said it will accept 20,000 (over five years) and these will be taken from refugee camps in Lebanon and Jordan, not the masses who are walking across Europe as we speak. What can we do? What is the right approach? These are real people in desperate need and action is clearly necessary.
4 responses

• Djibouti, Djibouti
18 Sep 15
20000 in 5 years ? What an effort ! UK probably hopes that the war will end before the term

. My opinion is that quotas are wrong when it comes to refugees. They are not economical migrants, and we have to offer them an asylum if they need it. Personally, I regret that for the first time in our history, we have accepted this idea of quotas (20000 refugees in 2 years in France). My country has never deported a refugee, and they will be certainly a lot more but they will have to manage to enter in France by themselves, which is a bit easier than to enter in UK. In the 1980's we have welcomed 270000 boat people from Vietnam, and they are enriching our country now, but most of the time the refugees are going back in their countries when things are better. It happened for refugees from Lebanon and Chile in the 1970's, and it will probably be the same for Syrians.

• Leicester, England
18 Sep 15
Thanks for your comment. Britain has an long and honourable history of offering a home to refugees - even Huguenots from France a few centuries ago! I find the UK government's current offer to be far from satisfactory.

• Djibouti, Djibouti
18 Sep 15
@indexer
Huguenots left France in the 17th C, it is old. Today 2500 migrants from Syria, Iraq, Afghanistan, Eritrea, Ethiopia, are living like animals in Calais and are risking their life everyday to go to UK. I read many articles about them in the British press blaming France at the end of July but no compassion for these people coming from countries in war. I am happy to see that the position of your government has changed a bit about refugees, and I hope that it will evolve favorably.

• Leicester, England
18 Sep 15
@topffer
Yes, we seem to have forgotten about the migrants in Calais while our attention is drawn to what is happening further east, but they are still there, as are the people trying to cross the Mediterranean from Libya. Clearly the solution will; have to come from sorting out the situation in these peoples' home countries, but in the meantime there are thousands of real people in desperate need.

• Canada
18 Sep 15
I really don't know what the answer is. I can't help feeling the arab countries should be offering more help in various ways. Iraq has a huge refugee settlement there, and you cant help feeling this might have been a better option for so many, as they have schools, stores, medical and health services. Also they would be closer if they wanted to return at some point. The numbers are staggering. The worst part is, once they do enter different countries, how do they settle in without very major help?.

• Newcastle Upon Tyne, England
3 Dec 15
How can Iraq afford to feed so many refuges though? I think people focus too much on their own country having to take in refuges instead of what they can do to help them get home, where they want to be. First America and NATO should stop bombing there, stop arming the rebels with sophisticated weapons that will bring down buildings with one hit. I guarantee this war will last around 5 years and the country will be a mess, just like Iraq, Libya and Afghanistan. If the agenda is truly to get rid of ISIS then back the government then everyone is on the same side

• Bangalore, India
18 Sep 15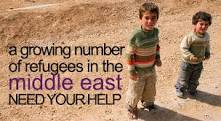 just 20,000 my friend that too in 5 long years.It amounts to be 4 thousand in average per yer that too if war continues.


This sounds like a call from a country which is not willing to help or not interested to mess its hands.India took most of Tibetians in when China annexed Tibet and gave shelter to Dalai Lama . I guess a minimum of 1,00,000 to 2,00,000 people were welcomed to India.And they now lead life here peacefully.They have started small scale industries,have stood up on their feet. I find this fact so good that the people who were in dire need of help for survival,their children where given shelter,food.These are the basic needs of human.If humans can't help humans then it is waste to be one that is what I feel!! Please help when peoples are in need of,ignoring is liking cruelty.I felt good about Germany as i remember her Chancellor welcomed people with open hands.As good human beings let's help people in need and not be cruel.