A nice addition to my room..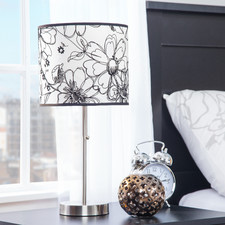 United States
September 17, 2015 6:15pm CST
I am looking for a matching set of lamps. I have a few in mind but the one in the image would be so nice next to my black headboard. I am on wayfair.com and they have very decent prices there. I have one lamp that was given to me. I want matching lamps to make my room pop. What do you think of lamps? Do you have any,I need lamps because,we don't have lights built in out ceilings.
7 responses

• Mauritius
18 Sep 15
I never really used lamps though I always find them interesting and cute. My soulmate (I say 'soulmate' because that's the person who completes me fully though we don't live under the same roof) gifted me a lovely red lamp some years back. I keep it as a souvenir. It is still as new as it was on the first day it was gifted to me. It reminds me of our days, moments and promises. Today, I love lamps maybe because I don't expect light from them, as light herself gave it to me.

• Gaborone, Botswana
18 Sep 15
Aww
@
@excellence7
you're so sweet in the way you appreciate your girlfriend's gift :) I'm sure she'd be happy knowing that you appreciate that gift!

• Mauritius
19 Sep 15
@Lushlala
Yes I am sure she is. She still has all the gifts I gave her. It's a way we still somehow connect to each other.

• Gaborone, Botswana
19 Sep 15

• Roseburg, Oregon
17 Sep 15
That lamp in the picture looks very nice. We have ceiling lights in our bedrooms so I do not need any lamps.


• United States
17 Sep 15
I would have better lighting if I had what you have. Thanks for checking out my new lamp soon to arrive.

• Gaborone, Botswana
18 Sep 15
@jstory07
I have to agree it's very pretty :)

• United States
18 Sep 15
@Lushlala
I would really like them in my room plus living room too. maybe not my living room. lol

• India
18 Sep 15
I do not read in the night and so have no use for it but I did have one in those good old days. This reminds me about that comic strip Bringing up Father where Maggie tries to match everything to her reading lamp and after doing the whole thing she realises that lamp does not match and throws it away


• Roseburg, Oregon
18 Sep 15
Sharon do not threw your lamp away if it does not match. (LOL)

• United States
18 Sep 15
I was just thinking about freecycle about this lamp. It's a nice lamp just not my design with my decor.

• Malaysia
18 Sep 15
here in my room i not use table lamp like in the picture you share. Mostly light are at the ceiling to maximize the space of the room. What color of your room and wall? If you try to match the lamp beside the design you should find the good color too. i like the that lamp on your picture, i think it match all because it white color.

• United States
18 Sep 15
My desk and tables along with headboard are black. MY walls are all white.

• United States
18 Sep 15
That would look very nice with your headboard. I have a red lamp shade in my room as my walls are kind of redish and matches my blankets also.

• United States
18 Sep 15
I would love a red room like that.

• Gaborone, Botswana
18 Sep 15
We don't have lamps in my apartment, but i do like them. Some of those lamp shades are ever so pretty, if I had nice bedside tables I'd want a pair of lovely ones. I'm sure it will happen sometime in the future. I hope you find what you're looking for :)

• United States
18 Sep 15
Oh, I like that. It's not too big, not too small, and it's tasteful. It looks so perfect in the picture. I'm definitely not going to that site you're on. I could get lost looking at home decor items all day.

• United States
20 Sep 15
I love it and have my next few buys ready on paper right here on this desk.

• United States
20 Sep 15
@sharon6345
It always feels good to find the perfect piece. I mean, I do enjoy the shopping part, but when I finally find the perfect furnishing or accessory, it makes me happy. Have fun!

• United States
20 Sep 15