"Tasty", a public performance by Steven Cohen, Sept. 19th 2015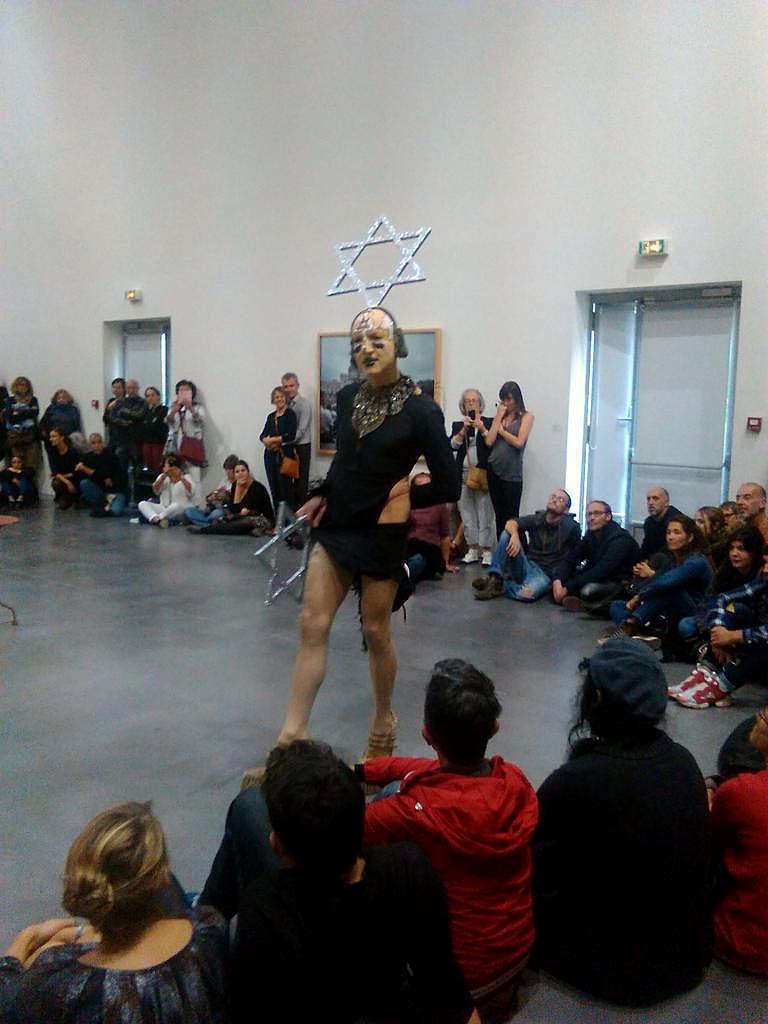 France
September 19, 2015 3:59pm CST
"O tempora ! O mores !" (Cicero, 63 BC) I had never seen a public performance of the South-African artist Steven Cohen, and it was seriously lacking to my general culture. Although he got several prizes for his public performances and an Ampersand Foundation Fellowship in NYC in 2003, I heard his name only in 2013 for "Coq/C.ck" an "uninvited public intervention" near the Eiffel tower : he danced naked with a rooster (a 'coq' in French) tied to his sex. It was art, but the police did not understood his art, and he spent 20 hours in a police station. He has been found guilty of sexual exhibitionism by a criminal court in 2014, but the court imposed no penalty because "he had not engaged in sexual acts". I am sure that animal lovers were pleased to know that the rooster had not been abused. I received an invite for a performance at the Regional Contemporary Art Collection. I hesitated a bit, but I told myself that I had an occasion to fill a gap. His today performance, "Tasty" was described on the invitation like "a toast to self-acceptance". About 250 persons were in the room, mainly students from Fine Art Schools and artists : contemporary art is a kind of closed environment nowadays. The artist entered with high heels and the star of David on his head and walked round the room while an answering machine was delivering threatening messages in English from people telling him to not wear the star of David during his performances. At the end, the wine for the toast(I suppose it was wine

?) came from his ass to an urinal (don't ask me for the trick), and he drank it when a yiddish L'Chaim (To life !) song was played, before breaking the glass on the floor and living the room. There was a buffet after the performance. I had no desire for a glass of wine and a toast

, and I came back to home. At least, if someone talks of Steven Cohen, I will be able to say "The exhibitionist ? I have seen one of his public performances", and to look less outdated than my age might suggest

. This is supposed to be culture. Have you seen a public performance of an artist ? Would you like to see one ? (The photo is mine)
7 responses

• Bhubaneswar, India
20 Sep 15
I am unsure about responding to the discussion on Steven Cohen as I am unaware of him. As for seeing a public performance of an Artist, yes, I have seen some. One from a Singer - she has sung some songs in Indian / Bollywood Movies. It was long back in an auditorium and I was a kid taken to watch the show by my parents. We had seats (later I understood that was because of Privileged Entry Passes). Then, there was a Magic Show by a well known magician in the Country - It was more fun and I was interested in learning some magic tricks too (and eventually ended up buying 101 magic tricks book and even some accessories

). Okay, this one was during my college days. There was one I would have loved to watch. I missed it because of high fever. It was a concert of my favorite Ghazal singer Late Jagjit Singh ji. And this one is the one I regret missing. As I had a dream to watch him live. He already has been an inspiration for me - and it was only because of him on the Adverts of CRY (Child Relief and You- a Charity Organization from Mumbai) that I got inspired and sponsored the education of two girl children for so many years. Today, I dont want to see any more. Maybe the age factor or even the health factor, but there is no interest in going and spending hours. But, if it could be Jagjit Singh, I will for sure.

• France
20 Sep 15
I also regret to have missed many singers when I was young. I don't like to go in the crowd, but I do it when I think that there is something interesting to see/to listen. I have had hard time to not laugh during this performance, but I don't regret to have seen it. The occasion will probably never happen again.

• Bhubaneswar, India
21 Sep 15
@Unforgettable_Raja
You know, celebrity are a threat to my mug of coffee. I have to avoid them to save my mug of coffee for me.... I dont have a choice.

For the complaint to polic, go ahead, I have ample evidence that you are my partner in crime.



• United States
19 Sep 15
@topffer
If that's what is passing for art these days, then I would rather stay home!



• France
19 Sep 15
It is also my thoughts, but I am not an artist. It has always been difficult to tell what is art for a contemporary person. Only the future will tell. The performance was in a Museum, and Steven Cohen is considered to be one of the most outstanding artists in his field. I give you a link to a curriculum with his exhibitions and performances.
  Curriculum Vitae Steven Cohen Born 1962 in Johannesburg. Lives in Lille, France. Solo Exhibitions 2012 Magog, Stevenson, Cape Town 2010 Chandelier (video), KZNSA Gallery, Durban Life is Shot, Art is Long, Michael Stevenson, Cape Town 2008 Fuck Off and Di

• United States
20 Sep 15
Oh my goodness, where do I start and what do I say about this guy that is within the PG rating system?!

First, while overall being disgusted about the rooster, I must admit that I am a little bit intrigued as to how he managed to keep it in place, especially without it either falling off or pecking at him.

Second, I do not blame you about not wanting to eat or drink after the performance. I think I probably would have been sick after watching it.



• United States
20 Sep 15
@topffer
Well that explains the rooster. I thought maybe he was very "gifted" and was trying to show it off.

I am not into that sort of "art", and I do not think that calling it art makes it so. There are a lot of extremely talented artists that do not get the recognition that they deserve, and I think that people like this make it even more difficult for the talented ones to survive.


• France
20 Sep 15
@purplealabaster
If you read his curriculum that I linked in SusanZ's box, you will see that he is internationally recognized and has already exposed or made his performances in Africa, Asia, Europe and America, so I believe that he has some "talent". Now I am not a specialist of contemporary art, and I can tell you that I had to do efforts to not laugh during his performance

.

• United States
20 Sep 15
@topffer
I guess that I am just not into "contemporary art", then, because he definitely does not seem like anyone that I would be interested in watching perform, and it certainly does not seem entertaining. I do have varied tastes in art and performances, and I am not against unusual attire when the performance is good.


• Philippines
24 Sep 15
That's how artists are . Most of them dress weirdly .

• Philippines
25 Sep 15
@topffer
Maybe he is a cross dresser , a gay ?



• France
22 Sep 15
I think it will be also my first and last one

. There was a video of some of his previous performances in the past, and some were not bad, looking more at "living paintings" (it is the name that he gives to his performances) than this one

.